The rules of blackjack are fairly simple: Try and make a hand that beats the dealer's without exceeding 21. Aces can be 1 or 11, picture cards are 10 and the rest are face value.
It's

There are occasions when we here at ReadyBetGo want to bring you interesting facts about the gambling industry When something catches our eye, we will publish it for your enjoyment.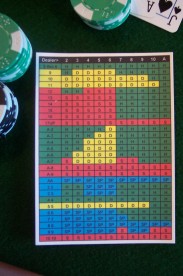 Blackjack Basic Strategy Card this simplicity that makes it one of the most popular casino games ever, and why it has been played for centuries. Anyone can pick up the game and start betting chips, but to become a master and have more chance of winning than losing, there are some strategies that can be incorporated. Nowadays, especially in the online casino world, there are many different slight variations of traditional Blackjack. This article looks to examine the different strategies you should take and how to adapt to the game you are playing. Prior to starting any game of blackjack, be sure to familiarize yourself with the rules of that particular form of the game.
Before looking at the various ways in which you will have to change your style of play depending on the blackjack you are playing, it would be a good idea to familiarize yourself with some of the basic rules and strategies that can be used in traditional blackjack. Knowing the general consensus on when one should hit, stand, double down or split can be applied to most variations of the game. Learn a bit of the lingo such as "soft 17" and "hard 17" so you are prepared and know what to do when phrases like this are spoken. What tends to vary in the different games is the amount of decks of cards used, the way the player can bet, and what the dealer has to do on certain hands. Before going to a casino or an online table, it would be a good idea to practice the mathematics a bit at home. This way you will be able to think quickly with less pressure when it counts. Keep dealing out hands and add the card values up as quickly as possible. This will also give you a sense of the likelihood of making a winning blackjack hand with certain card combinations. To gain even more confidence you could do some research into the outcome probabilities.
Double Deck Blackjack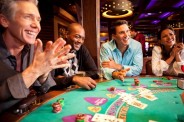 Image Source: blog.seminolehardrocktampa.com
As the name suggests, this form of blackjack uses two decks of 52 cards. Fewer decks used in blackjack benefit the player slightly. The more decks used increases the house advantage. The main difference in this game is that the dealer doesn't receive a hole card (a card dealt face down) and must hit on a soft 17. Being able to see the dealer's hand is an advantage for the player because there is no guessing involved. Always stand on a hard 18 or higher, and always hit on a soft 17. If there is no row for splitting then look up your hand as a hard total. This applies to 5s and 10s. Always split Aces and 8s and never take insurance because more often than not this is a loser's bet.
Double Attack Blackjack
For this variant of the game, players will need to adapt their strategy quite a bit, because the rules differ greatly from the traditional forms of blackjack. The first thing to be taken into account is there are no tens. The game uses 8 Spanish decks of cards. Spanish decks have 48 cards; they are 52 card decks with the 10s removed. Without 10s in the game, players need to heed that this will change the odds greatly. The beauty of this game is there are more opportunities to win larger amounts of money on each hand. After the dealer has dealt the first card, their upcard, players can choose to "double attack" and raise their bets up to double their original wager. Players can also place side bets known as "Bustit" bets that will be paid if the dealer busts on his third card. To be successful at this game it would be wise to look up the odds of the dealer making a good hand based on their first card, and know when to "double attack".
Multi-Hand Blackjack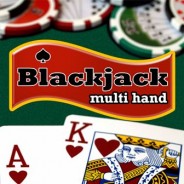 Image Source: itunes.apple.com
Multi-Hand Blackjack follows the same rules as standard blackjack, with the difference being that players are encouraged to play up to five hands at the same time. This game gives players more of a thrill as it is exciting having five opportunities to win money at once. Players should be careful not to get carried away, though, as there is also the chance of losing money five times faster. Unless you have an intricate understanding of the best odds and can quickly recall them, the best strategy to use in this form of the game would be to bet low on each hand and just have fun.
Whichever variant of this wonderful game you are playing, the most important thing to remember is to be sensible. Never bet more than you are willing to lose and forget any superstitions you may have. Use your head and not your heart - the probabilities don't lie.