Blackjack is one of the most popular casino games and has been for many years because of its simplicity, it is easy to learn and play, and above all-it isn't just about luck. Of course, there

There are occasions when we here at ReadyBetGo want to bring you interesting facts about the gambling industry When something catches our eye, we will publish it for your enjoyment.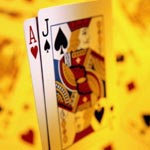 is a lot of luck involved, but if you know what you are doing and play the game right, you will find yourself winning a lot more than you lose. With games like roulette and slot machines, it is very hard to get a system in place, though many have tried in the past to little or no avail. This is where Blackjack differs, if you are clever about it there are systems that work. We are not talking card counting here, which is not only illegal but a virtually impossible skill to master. Here are some tips that could be applied in the casino or the online world without any risk of angering the casino. Sit back, read through, and get ready to start watching the money roll in.
Although some online sites offer different variations on the classic game such as Perfect Pairs European Multi Hand Blackjack by 32Red, and Blackjack Bonanza at Go Wild Casino, the general rules of Blackjack are usually applied. These being that your cards need to add up to a higher value to that of the dealer, without exceeding 21. Every player is dealt 2 cards initially, and they can choose to Stand, Hit, Double or Split depending on the cards. Knowing what to do on certain card combinations is the key to gaining the upper hand in this game. Online sites like 32Red and others are a good place for budding Blackjack players to hone their skills before taking them to the casino floor.
Soft 17
Always hit on a soft 17. A soft 17 is an ace and a six and it is soft because the ace could be counted as a 1 or an 11. Your next card will determine what the value of the ace is, but it effectively acts as insurance and prevents you from going bust. If you draw a 2, 3 or 4 the ace will be high, but if you draw any card higher than a 4 then you can choose to carry on. The reason to hit on this hand is because standing on 17 won't give very good odds on beating the dealer. There are more disputes over whether one should hit on a soft 18 because standing on 18 gives the player a reasonable chance of beating the dealer, and by choosing to hit the player could end up with a hand of lower value. If you receive a hard 17 or greater though, you should stand and hope for the best.
When to split
The best cards to split are aces and 8s. Aces are dream cards in blackjack so if you get dealt two, split them and give yourself the chance to make two winning hands. If you land a pair of 8s on the deal you have 16 which is a pretty tough hand to call. If you decide to hit there are only 4 safe cards you can land without going bust. You should split these cards every time to give yourself much better odds of making a winning hand. Other hands you may want to split are 7s or 6s but never split fives or lower because you are always safe for one more card on these pairs. Never split 10s because you already have a hand with a good chance of winning.
Don't take insurance
If the dealer lands an ace on the deal you will have the option to take insurance on whether the dealer's other card is a 10, which would make blackjack. The insurance is a side bet of half your stake at 2-1 odds. If the dealer does have a 10 you lose your original bet because he has blackjack and wins, but because of the insurance you will break even on the hand. Owing to the fact that the odds of the dealer having a 10 as well as an ace are usually a lot greater than 2-1, taking insurance is not worth your while, so avoid it.
The most important rule is to be sensible. Don't bet more than you are willing to lose, and know when to cut your losses and walk away.