PENNSYLVANIA -- Philadelphia Park Casino, the first casino to open in the Philadelphia area, chalks up another first with the introduction of the state's first electronic table games.
The games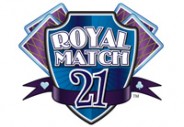 Shuffle Master's Royal Match 21 Blackjack has been approved in a number of states. feature a dealer on a high definition 42-inch plasma screen who deals out an electronic hand of cards in front of each player's seat. The players bet their hands against the dealer's. A major benefit of "Royal Match 21" is that the bets of the other players cannot influence another player's hand, nor diminish their chance of winning.
Dave Jonas, President and Chief Operating Officer of Philadelphia Park Casino, said, "The expeditious approval of electronic table games is an excellent example of the regulatory support and cooperation within our industry. It enables us to move steadily towards our goal of becoming a full service gaming and entertainment venue that will rival the best that Atlantic City or Las Vegas can offer."
Tomorrow morning, Philadelphia Park Casino will begin the installation of 11 blackjack games, each with five seats for "Royal Match 21," the most technologically advanced blackjack game in the industry. On Saturday, May 5th, the table games "pit" will have its grand opening for customers. The same day, the casino and racetrack will be broadcasting the Kentucky Derby and the screening the De La Hoya vs. Mayweather fight. There will also be live racing throughout the day at the racetrack.
Darlene Monzo, Vice President of Marketing for the casino, added, "These games bring a shared table experience and camaraderie to what is already the best and most exciting slot floor in the market. Eventually, we hope to add other electronic table games to the pit such as Roulette, Three Card Poker and Let it Ride, subject to the Gaming Board's approval."
Earlier this month, Philadelphia Park Casino filed an application with the Pennsylvania Gaming Control Board to increase its casino floor by approximately 12,000 square feet. This move was to accommodate an extra 326 slot machines, bringing the total number of machines to 2,402, in addition to providing more bar and lounge space to meet the enormous customer demand that has developed since the casino opened its doors, just four months ago.
Philadelphia Park Casino and Racetrack
3001 Street Road
Bensalem, PA 19020
Phone: (215) 639-9000
Website: www.philadelphiapark.com

Pennsylvania's newest racino, Philadelphia Park Casino and Racetrack offers horse racing and over 2,400 slot machines.