The Ultimate Casino Guide: 1000 Great Casinos from America, Canada and Around the World
by Michael Wiesenberg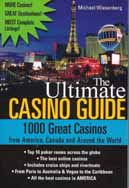 This is a complete directory of the finest casinos from around the world. Tokyo, Las Vegas, Eastern Europe, the Caribbean — and wherever else the winds of chance may blow — this exciting guide gives travelers all of the information they need about any casino in or around their travel destination.
Read a review of The Ultimate Casino Guide: 1000 Great Casinos from America, Canada and Around the World

Global Gaming Business
Global Gaming Business is a premium monthly trade publication focusing solely on the casino gaming industry worldwide. A unique combination of features, columns and departments, the magazine provides innovative editorial coverage. Global Gaming Business also publishes the most timely gaming electronic news magazine, Global Gaming Business Weekly, a joint venture with Spectrum Gaming Group and Michael Pollock's Gaming Industry Observer. Global Gaming Business is an official publication of the American Gaming Association and Global Gaming Expo (G2E).

Pennsylvania Gaming Control Board
Formed at the end of 2004, the Pennsylvania Gaming Control Board is directly responsible for awarding licenses for the fourteen future gaming facilities in the state. The site has information regarding the selection process, the latest news, the members and executives at the agency, and gaming regulations.
In 2004, the Pennsylvania state legislature legalized slots gambling, creating 14 licenses that are expected to produce $1 billion in revenue. Lawmakers said the money would be used to fund statewide property tax reductions. As of February 2006, the Pennsylvania Gaming Control Board had received 25 applications for these licenses. The agency has said that it would issue conditional licenses for six racetracks late in the summer and permanent licenses for all parlors by early 2007.
The gambling industry's hope is that table games will soon follow. Needless to say, interest is piqued in Philadelpia, Northeast Pennsylvania and in Pittsburg. The race is on as to who will be successful in bringing the best gambling to the state. Delaware Avenue will never be the same...