LuckyAce Casino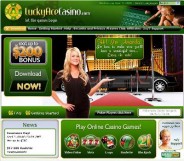 LuckyAce Casino is a new white-label casino that uses 888 software, the same platform that powers one of the oldest and most respected online gambling sites on the web, Casino-on-Net. LuckyAceCasino.com has all the most popular games including: BlackJack, Craps, Video Poker, Roulette, Keno and over two-dozen slot machines with better odds than a Las Vegas casino room. LuckyAce Casino does not accept US players.
NORTH STRABANE, Pennsylvania - As reported by The Pittsburgh Post-Gazette: "The silence inside the permanent structure of The Meadows Racetrack & Casino in North Strabane was perhaps the biggest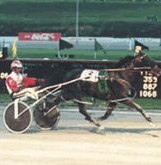 The Meadows features harness racing. thing to separate it from the temporary casino nearby as officials led a recent media tour of the new facility's shell.
"That particular difference will end once the permanent building opens in the spring, containing thousands of noisy machines and gamblers. But visitors will notice plenty of other distinctions that the racetrack-casino's officials hope will make the experience all the more appealing, among them:
"• More than twice as many slot machines, with 3,900 envisioned within weeks of opening.
• Twice as many dining options, including a steak house, another restaurant, food court and snack bar.
• An indoor parking garage with 1,200 spaces connected to the racetrack-casino, in addition to 3,500 surface spaces.
• A combination of race wagering and slots operations, with large windows facing the track's home stretch from the new facility's dining areas. Simulcasting and horse-betting operations will be located downstairs from the gaming floor.
• A 24-lane bowling alley, also located downstairs.
• Live entertainment from more spacious bar areas..."
The Meadows
Racetrack Road
PO Box 499
Meadow Lands, PA 15347
Phone: 724-225-9300
Fax: 724-225-0298
Website: www.themeadowsracing.com

The Meadows has a racing schedule that goes on year-round. In August, the tracks hosts the $1,000,000 Coors Delvin Miller Adios Week. This series of major harness stakes races culminates with the $500,000 Adios Pace for the Orchids, Pennsylvania's richest stakes race.