Club USA Casino Blackjack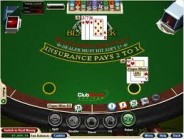 Club USA Casino Blackjack is the best bet for practicing blackjack basic strategy without stress and distractions. The game comes in both free play and real money modes and you can play up to three hands on your own table. The rules are favorable and with a house edge of only 0.71%, better than many casinos. The table minimum is $1 per hand and the maximum is $500.
MEADOW LANDS, Pennsylvania -- As reported by the Pittsburgh Post-Gazette: "The Meadows Racetrack & Casino is set on opening its permanent casino with more than 3,000 slot machines in April,


Artist's rendering of the Meadows Casino upon completion. now that it has scheduled a test run under state regulators' supervision.
"The 350,000-square-foot facility will be open to players on an invitation-only basis from 11 a.m. to 5 p.m. on April 13. The casino's share of revenue from players' losses in the slot machines will be donated to volunteer fire departments across Washington County.
"...The temporary casino in North Strabane has 1,825 slot machines. Officials say the new casino will open with 3,071 slots and expand to 3,749 within a few weeks. The $134 million building will also have several restaurants and bars, a bowling alley, new horse wagering and race viewing area, and attached parking garage. About 300 additional employees are being hired for the expansion.
"...The Meadows is to open its permanent facility about four months before the Rivers Casino opens on Pittsburgh's North Shore, also with at least 3,000 slot machines..."
The Meadows
Racetrack Road
PO Box 499
Meadow Lands, PA 15347
Phone: 724-225-9300
Fax: 724-225-0298
Website: www.themeadowsracing.com

The Meadows has a racing schedule that goes on year-round. In August, the tracks hosts the $1,000,000 Coors Delvin Miller Adios Week. This series of major harness stakes races culminates with the $500,000 Adios Pace for the Orchids, Pennsylvania's richest stakes race.