PLAINS TOWNSHIP, Pennsylvania – As reported by the Times Tribune: "Electronic blackjack machines and a $180 million expansion project are in the works for Mohegan Sun at Pocono Downs.
"Mohegan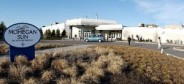 The Mohegan Sun at Pocono Downs will soon have electronic blackjack tables. Sun also is seeking state Gaming Control Board approval for 30 to 38 more slot machines and 10 electronic blackjack machines, which the company wants to install in the food court area of the existing casino this summer, President and Chief Executive Officer Robert Soper said.
"The blackjack tables will seat five players each. Unlike conventional table games — which are not permitted in Pennsylvania — there will be no human dealer and no actual cards.
"…The devices were approved for use in Pennsylvania last month, Gaming Control Board spokesman Doug Harbach said. While they are designed to be used for multiple types of card games, only blackjack is permitted in this state.
"'While there are five players at a table, the machine is able to make sure that any given player is only playing against the dealer, not against any other player,' Mr. Harbach said, adding that blackjack was approved because 'it lends itself to that sort of application.'
"Groundbreaking for the Phase II gambling parlor is set for Friday.
"'It's going to have the Mohegan Sun quality, but obviously of a size to match this market,' said Jim Wise, Mohegan Sun's vice president of marketing. The new building will be designed more in the style of Mohegan Sun's home casino in Connecticut, known for its high-ceilinged, Native American-inspired architecture.
"The new, 300,000-square-foot gaming hall will complement Mohegan Sun's 1,100-machine Phase I casino, which opened Nov. 14 and continues to draw 6,000 people per day, on average. Slated to open in summer 2008, the new casino will include space for 2,000 slot machines, a 300-seat buffet, 'high-end' food court, several full-service restaurants, retail shops and nightlife amenities.
Mohegan Sun at Pocono Downs
1280 Highway 315
Wilkes-Barre, PA 18702
Phone: (570) 831-2100
Fax: (570) 823-9407
Website: www.poconodowns.com

Phase One of the Mohegan Sun at Pocono Downs features two floors housing almost 1,100 slot machines, a food court, bar and patio. An additional third floor will be used for office space.