Magic lamps and genies are a popular theme with slot designers.
Millionaire Genie
by
Random Logic
plays on this theme and so does Boss Media's Aladdin's Lamp. Queen Scheherazade told a different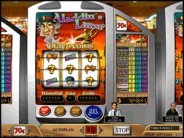 Boss Media's Aladdin's Lamp Progressive Slot
story to her husband to delay her execution, each with a cliff-hanger ending to ensure she would live another day. The cliff-hanger here is spin-by-spin with the big payoff coming when the lucky player has three coins-in and lands three smiling face of Aladdin in a row. Other winning symbols on this
progressive slot
include flying carpets, red diamonds, lucky sevens, and bar symbols.
The layout of Aladdin's Lamp is veritical which gives appearance of a large slot. It comes in a number of denominations, so you can choose which version best fits your budget.
Aladdin's Lamp Game Facts:
Classic slot, 3 line, $.25, $.50, $1.00, $5 denominations. One coin per line.
You can play Aladdin's Lamp at
Sunset Casino.
Boss Media
PO Box 3243
Sweden
Phone: +46 470 70 30 00
Fax: +46 470 70 30 50
Email:
info@bossmedia.se
Website: www.bossmedia.com
Boss Media, based in Sweden, is a creator of e-gaming software and solutions. The company provides a variety of attractive interactive games. Software is designed for Internet-enabled PCs, mobile phones, and handheld computers as well as interactive digital television or state-of-the-art Interactive Video Terminal (IVT) systems.