LuckyAce Casino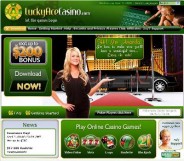 LuckyAce Casino is a new white-label casino that uses 888 software, the same platform that powers one of the oldest and most respected online gambling sites on the web, Casino-on-Net. LuckyAceCasino.com has all the most popular games including: BlackJack, Craps, Video Poker, Roulette, Keno and over two-dozen slot machines with better odds than a Las Vegas casino room. LuckyAce Casino does not accept US players.
PORTERVILLE, Calif. -- On Jan. 29, a Porterville man hit the largest jackpot of his life at Eagle Mountain Casino.
Richard Williamson, a retired Army veteran, was sky high after hitting $1,031,425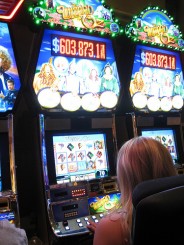 on a Wizard of Oz penny slot machine.
"Richard started playing around 2:30 p.m. and played his last credits on the machine. He started to get up but had a gut feeling he was going to hit, so he sat back down and put in another $20. He spun it once and nothing happened. He spun it a second time and five progressive symbols lined up, he looked back at the machine to make sure he had placed the max $3 bet and knew he had won," said Jim Valencia, public relation coordinator at Eagle Mountain Casino.
"I was completely shocked," Williamson said, "I kept looking at the slot machine. I just can't believe that I won that much money."
Williamson ran, got his wife and when they returned to the slot machine, the song "Somewhere Over the Rainbow" was playing from the machine, Valencia reported.
Williamson said, "I plan on paying off my home mortgage, my son's mortgage, buy a new truck and move to Montana."
Eagle Mountain Casino
681 South Tule Road
Porterville, CA 93258
Toll Free Phone: (800) 903-3353
Website: www.eaglemtncasino.com

Eagle Mountain Casino offers everything from the latest high tech video machines including Fort Knox, Twilight Zone, Hot Shots, and Mega Bucks "Marilyn Monroe". They also have many table games and bingo available for players.