RENO, Nevada -- The multi-player gaming phenomenon known as the Wheel of Fortune Super Spin video slot is now available at six casinos in Central California and the Sacramento Valley - Chukchansi Gold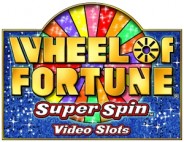 Wheel of Fortune Slots Super Spin Edition are a big hit and are now available in Central California
Resort and Casino in Coarsegold; Gold Country Casino and Hotel in Oroville; Jackson Rancheria Casino and Hotel in Jackson; Table Mountain Casino in Friant; Tachi Palace Hotel and Casino in Lemmore; and Thunder Valley Casino in Lincoln.
The Super Spin(TM) game features nine separate player stations that surround a huge and illuminated bonus wheel, so multiple players can participate in the same bonus game. Each player station has its own wheel pointer that lands on a bonus total, giving each player surrounding the wheel a different experience. Players can choose to be part of a particular wheel spin or wait to try their luck on the wheel on their own.
"We're excited at Thunder Valley to have the only Wheel of Fortune® Super Spin(TM) in the Sacramento Valley," said Scott Garawitz, general manager of Thunder Valley Casino. "It's thrilling to play and takes video slot gaming to a whole new level."
Bonus-eligible players have a 10-second countdown to participate in a wheel spin, once another player has pressed the Spin button. The status of each player station is displayed on a giant plasma screen that is part of the overhead signage.
You don't have to play a max bet to enter the bonus round, but you must cover all lines and the bonus side bet to be eligible for the bonus round. Minimum bet for bonus round eligibility is 80 cents for the penny game and 75 cents for the nickel game.
Player stations offer extra-wide seats, so a spouse or friend can sit with you while you play. The game's frequent bonus spins promote a sense of community within the casino.
"The energy is palpable. It's a fun experience for everyone near the game," said Ed Rogich, IGT's vice president of marketing. "The nine player stations are always full, but the onlookers are having so much fun watching the game, they don't mind waiting a few minutes for an open machine."
Wheel of Fortune® is part of the Native American Progressive Systems (NAPS) network that links slot machines from various casinos to build a progressive jackpot that is generally larger than what an individual casino would be able to offer on its own.
Wheel of Fortune® slots were developed by IGT (www.IGT.com), a global company specializing in the design, development, manufacturing, distribution and sales of computerized gaming machines and systems products. All IGT MegaJackpots® top awards are paid in annual installments upon verification, except MegaJackpots Instant Winners Jackpots(TM) and Rapid Riches MegaJackpots®, which are paid in their entirety upon verification.
International Game Technology (IGT)
Corporate Headquarters
9295 Prototype Drive
Reno, NV 89521-8986
The leader in slot machine manufacture, IGT produces hit after hit including popular favorites Megabucks, Wheel of Fortune, Double Diamonds, to the latest innovations. The website features details on the slots, video slots and other products that IGT is famous for. There's also a Gamefinder function which allows you to search for the locations of your favorite games. Financial and technical information for investors and slot directors is also included.