GIBRALTAR -- Matt Eilenberger, a 35-year-old Central Point, OR roofer is planning to purchase a new roof over his head after scooping a record $902,505 on PartyCasino.com's Party Mega jackpot.
Eilenberger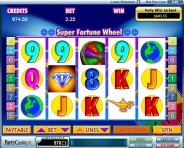 Super Fortune Wheel pays off for Oregon roofer.
is in no doubt about what he'll do with the money. The married father of three said, "I'm looking to sell my house and get a bigger one!" Space has been a problem for Matt and Alicia, whose three children -- Jacob 11, Tyler 9, Marissa 5-- will now have more room to roam. The family will also have two new cars, a Dodge Viper and a Mini-Cooper, sitting in that new garage - Eilenberger's first purchases with his new winnings.
Eilenberger hit the jackpot with a $9 stake on the PartyCasino.com's Super Fortune Wheel, an internet slot machine, at the end of July and is still sky high over his good fortune. "When I told my wife that I had won, it took quite some time for the news to sink in - we both slept for only two hours over the next two days. I can quite honestly say that until a few weeks ago I had won nothing in my life. I hit a $3,000 jackpot on the casino back in June and then on the day of my big win I won $4,200 a few hours before. It's unbelievable, I've been playing on PartyPoker.com for quite some time and started playing for small stakes on the casino for a bit of fun at the end of last year."
To celebrate, Eilenberger plans to take wife Alicia to Las Vegas for their sixth wedding anniversary, instead of the cabin in the woods near their home that was originally to be their romantic getaway. "We can't wait," he said.
Eilenberger also plans to make a major change to his lifestyle: "I own a roofing company and would love to be in a position where I only have to work one or two days a week, but we'll just have to wait and see."
"Thanks to his Party Mega jackpot, at least he has a good foothold on that ladder to the top," said Warren Lush, PartyCasino.com spokesman.