Club USA Casino Slots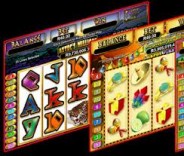 Club USA Casino has a huge variety of slot machines, enough to satisfy any slot fanatic. The casino has over 300 video and classic slots to choose from including 7 progressives. You can play as little as a penny per spin all the way up to $5 per line. There are 3 and 5 reel slots, with play up to 25 lines. Some of the outstanding video slot titles are Aztec's Riches, Mister Money and Vikings Voyage. Popular classic slots include Bank on It, High Rollers, and Lucky Lightning. With great variety, fantastic graphics, and innovative themes, Club USA slots are a good thing.
NICOSIA, Cyprus – (PRESS RELEASE) -- Playtech's winajackpot.com network continues to set record winnings when member Marty O. took home the web's biggest jackpot win of $1,966,183 playing Gold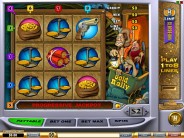 Gold Rally video slot progressive Rally, a hugely popular progressive 8-line Wild West themed slot game featuring two interactive bonus stages. This jackpot win comes only six months after Cari M's jackpot win of $1,853,850.
"Being part of such an overwhelming success story is what Carnival casino is all about," said the spokesman for Carnival Casino, an Empire Online brand. "These record winnings set the winajackpot.com network at the top of the industry and were one the reasons we decided to choose the Playtech-powered brands to diversify our technology platform."
He added that in addition to high profile winnings such as this one, Winajackpot.com regularly pays out hundreds of thousands of dollars to dozens of other lucky winners playing a range of progressive games on the network each month. "The significance of this win is the added incentive it provides other jackpot hopefuls of more history-making multi-million dollar payouts. Everybody here is truly delighted for his win."
Michelle Roberts of Winajackpot commented that "this is the third multi-million win this year. this is definitely the best jackpot game on the internet. We at Winajackpot.com would like to congratulate Marty on his record-breaking win and wish him the best for the future". A full interview with will be soon available on the Winajackpot.com website under "Winners Tale."
Playtech
15 Themistocle Dervis Street
Nicosia
Cyprus
Phone: +972 361 399 90
Fax: +972 361 399 89
Email:
info@playtech.com
Website: www.playtech.com
Playtech is one of the leading gambling software manufacturers in the online gambling world and is the software of choice for many well-known and popular online casinos. Founded in 1999, Playtech has over 250 personnel distributed globally, around eighty percent of whom are engaged in research and development of current and future gaming technologies.