Play Penny Slots Now!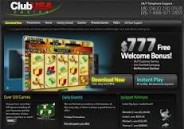 If you are just learning about slots, you should check out Club USA Casino. You can keep your risk to a minimum by playing their big selection of penny slots and you'll also get a nice sign-up bonus.
New Ugga Bugga Slot...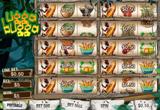 Ugga Bugga is a new video slot from Playtech that you can play now at Casino Tropez. This 10 row multi-spin slot lets you choose which symbols to hold as you go for the moolah in an African tribal setting. Jungle drums, masks, huts, and exotic foods are part of the adventure. You can win up to 1000 per line if you find three wild symbols on your payline. Explore Ugga Bugga today!
NICOSIA, Cyprus -- Playtech recently announced its July release of new games with the addition of another four games to its games portfolio, expanding the number to over 90. This game release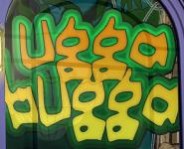 The Ugga Bugga video slot by Playtech is an unusual and fun offering.
is the latest effort by Playtech's product development team, well-known throughout the online gaming industry for its top-quality graphics, advanced performance and an overall entertaining gaming experience.
The new games, which include Ugga Bugga, a 10-row mutli spin video slots, 50 line
Jacks or Better
video poker, 20-line Lotto Madness video slots and Dollar Ball - which introduces a brand new concept to online gaming and is an exclusive Playtech offering- shall be released to all
Playtech
licensees in the coming days.
The Ugga Bugga game is a new, 10 row multi spin video slot game based on an African tribal concept. 50 lines Jacks or Better takes the Jacks or Better concept to a whole new level by increasing the number of rows, thereby allowing for a wide range of bet options for any player, regardless of budget constraints. Lotto Madness, a 20 line video slot game featuring a bonus round in which free spins with a win multiplier can be won, has been highly anticipated by Playtech licensees following the success of previous 20 line video slot games. Additionally a new progressive game called Dollar Ball, an exclusive Playtech offering available only to its licensees, has been added to the game portfolio. Dollar Ball, a side game embedded within the new Lotto Madness video slot, introduces a new feature in which players may opt to bet one additional dollar as a progressive side bet before spinning the reels of the Lotto Madness game. Running as a progressive lottery type game, Dollar Ball runs in conjunction with the main video slot game effectively allowing players to play two different games simultaneously.
According to Avigur Zmora, Playtech CEO, "The latest editions to Playtech's game portfolio have been created in-step with the traditional Playtech policy of product development based on the needs and requests of Playtech licensees and their clients. Not only have we created games with a proven success record among players, but we've also brought a whole new concept to online gaming, the progressive side bet developed exclusively for Playtech licensees. These games have been released in answer to demands from both operators and players and are part of Playtech's efforts to release more games in greater frequency."
Playtech
15 Themistocle Dervis Street
Nicosia
Cyprus
Phone: +972 361 399 90
Fax: +972 361 399 89
Email:
info@playtech.com
Website: www.playtech.com
Playtech is one of the leading gambling software manufacturers in the online gambling world and is the software of choice for many well-known and popular online casinos. Founded in 1999, Playtech has over 250 personnel distributed globally, around eighty percent of whom are engaged in research and development of current and future gaming technologies.