Playtech is one of the leading gambling software manufacturers in the online gambling world and is the software of choice for many well-known and popular online casinos. I've had first-hand


experience with Playtech software at both Golden Palace and Casino Tropez. Though each casino has its own branding elements, the software is nearly identical in each casino.
The reason for the popularity of Playtech is evident once you download and take a look at what the company offers its customers. Playtech's casino software features over eighty-five well-designed games to suit all types of players. The software provides classic table and card games, multi-line and multi-spin slots, video poker and keno. There are also progressive bonus-stage jackpot games, Asian games, arcade games, live dealer games and exclusive to Playtech, Blackjack Switch.
At most table games, players can choose from multi-hand, multi-player and private group playing modes, where they can chat with other players. Playtech software also offers multi-window casino game play where you can have several windows open simultaneously, each running a separate casino game.
Playtech's system supports separate accounts for both real and play money. There are a few differences between the modes. The multi-player feature is available only in real money mode. Also progressive slots can only be played in real money mode. Finally, the table limits in fun mode don't always match the real money versions.
Here are the specifics of what you'll find at most Playtech casinos. Keep in mind that software providers match their products to the brands of the casinos, and while most of the games will be the same, some casinos purchase a package with their own branded games. This review deals with common games.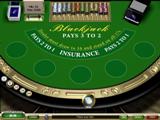 Playtech Blackjack Table
Blackjack – The graphic and user design of Playtech's blackjack table is very good with sharp colors, easily-readable cards, and intuitive playing choices. The game can be played in a number of different modes; single player, multi-player (with chat) and private tables. The single player mode also gives you the choice of 1, 3 or 5 betting hands.
Playtech blackjack uses 6 decks and dealer must hit on all 17s. Other rules are:
After each round, used cards are returned to the deck and the deck is shuffled.
The player may double on any two cards.
The player may double after splitting.
The player may not split a split hand.
The dealer will not check for Blackjack in any case.
If the player doubles and the dealer's first card is of value 11 (ACE), and the dealer gets Blackjack, the player loses both his bets. If the dealer's first card is of value 10, and the dealer gets Blackjack, the player gets the Double bet back.
The house edge under these rules is 0.52%. Playtech also offers Blackjack Surrender which has the same or better rules as regular blackjack. Unless the casino where you play gives a bonus incentive to play regular blackjack, one should stick with the Blackjack Surrender game and learn the extra few basic strategy decisions that are necessary.
Blackjack Surrender – The surrender version comes in the same single hand, multi-hand configurations as regular blackjack. The rules are also identical with a couple notable exceptions: the dealer stands on soft 17 and always peeks for blackjack. With these rules in place the house edge 0.39%.
Blackjack Progressive – Playtech also produces a blackjack table with a progressive jackpot based on the cards you are dealt. If you like jackpot games, give it a shot, but remember the progressive has to be over $200,000 to make it even close to being a good bet.
Blackjack Switch – This enjoyable game is exclusive to Playtech software, although it can also be played at some Las Vegas and Russian casinos. The central difference between it and regular blackjack is that the player gets two hands and has the option of switching the top card of each hand to make better hands. So if you are dealt 10/4 on one hand and 6/Jack on the other, you could switch the 4 and the Jack and wind up with 4/6 and 10/Jack, which you then play just like regular blackjack. There are number of other rules that come into play, but at the end of the day, the house edge is almost nil when playing perfect strategy. The difficulty lies in determining the right plays. The Wizard of Odds, a well-known gambling probability expert, has produced a large strategy table for those who want to go the extra mile with this game. I would recommend Blackjack Switch for those who are bored with blackjack and want to add some spice to their life.

Pontoon – Supposedly a precursor to blackjack, Pontoon can be a head-scratcher. The rules are provided with the game, but be forewarned, this ain't blackjack. The house edge on this game is not bad for the player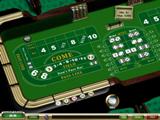 Playtech Craps
Playtech's craps table is of the same high quality as the other table games. One important feature is that a summary of each bet won or lost is displayed in a ticker above the table. When you have a lot of bets in action, this can be very helpful. The player may take up to 3 times odds on the pass and come bets. This is also the case for don't pass and don't come. The combined house edge is 0.47% on the pass and come and 0.46% on the don't pass and don't come. Buy and lay bets are allowed and the 5% commission is charged on the winnings.
Playtech offers three versions of roulette: American Roulette, European Roulette, and Roulette Pro. The difference between them consists of two zeros for American Roulette, one zero for European Roulette, and a selection of interesting preset patterns (in French) and a single zero game for Roulette Pro. All versions include a history of numbers hit and a close-up of the wheel. The graphics and sounds are good.
Baccarat
The baccarat table offers the standard rules, rake and odds for the game. The look and feel of the table is excellent and the player controls are intuitive.
Caribbean Poker
Caribbean Stud Poker was a very popular game when it was first introduced in Nevada over ten years ago. Over time its popularity has waned. Playing poker hands against the house can be entertaining, but the house edge of 5.22% is a drawback. And if you are considering the side bet for the progressive, keep in mind that the meter would need to reach nearly $220,000 for the bet to be even.
Let Them Ride
This game is Playtech's version of Let it Ride. The game has a house edge of about 3.5%. There is also a side bet which has an edge of 13.8%, certainly not the worst for this type of bet, but still something you'll want to avoid.
Pai Gow Poker
The dealer is always the banker, resulting in a house edge of 2.8%. There is a house way button but if the player clicks it the hand will immediately be scored, not giving the player the option to accept or reject the house way.
Poker Three
Playtech's version of Three Card Poker follows full-pay rules making it one of the better deals on the Internet for this game. The house edge is 2.3% on the Pair Plus bet and 3.4% on the Ante bet.
Casino Hold'em
Playtech's Casino Hold'em is a house-banked version of Texas Hold'em where the player competes heads up with the dealer. The betting includes an ante bet, a call bet, and an option side bet that pays of hands that can be made out of the player's initial two cards and the three card flop. The game is fun and not terribly expensive, about a 2% house edge. The side bet is so-so, with a house edge of 6.4%.
Other table games include Red Dog, Casino War, and Sic Bo.
Playtech has a portfolio of over 30 classic and video slots, including seven progressive slots. Unlike other software packages, the slots and video poker don't need to be "fed" bills in order to start playing. All slots and games on Playtech deduct and add to your cash balance making the coin conversions for you. This makes session bankroll management a bit more difficult, but is a great convenience when switching between machines.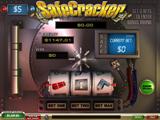 Safecracker Slot
The classic slots include 2, 3, and 5 coin-in games, some with multiple lines. The video slots include 3, 5, 8, and 9 coin-in games and often come with wild, scatter and bonus features. Fun slots include Fruitmania, Goblin's Cave, Wall St. Fever and Vacation Station. Overall, the slot product made by Playtech is excellent.
Video Poker
Playtech offers a lot of variety in its video poker products. The single hand versions include 10s or Better, Jacks or Better, Aces & Faces, Deuces Wild, Joker Poker and Two Way Royals (1,2,3,4,5 or 10,J,Q,K,A of the same suit). Multi-hand games are 4 line Jacks or Better, Deuces Wild, and Aces & Faces, and 10 hand Jacks or Better, and 25 hand Aces & Faces.
Here are the paybacks on Playtech's video poker products:
Single Hand Video Poker Machines

Jacks or Better

99.5%

10s or Better

97.9%

Deuces Wild

98.9%

Joker Poker

98.6%

Aces & Faces

99.3%

Two Way Royals

99.1%

Multi-Hand Video Poker Machines

4 Hand Jacks or Better

99.5%

10 Hand Jacks or Better
97.3%

4 Hand Deuces Wild

98.9%

4 Hand Aces & Faces

99.3%

25 Hand Aces & Faces

95.4%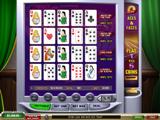 Playtech Multi-hand Video Poker
As you can see, 10 and 25 hand games make you pay a price for the excitement of the extra hands.
Playtech also has a $.25 progressive video poker machine called Megajacks. This is a 9/6 machine. If the machine has a progressive jackpot of over $1,000, the odds become more favorable than the standard machines.
Arcade Games
Playtech has a good number of arcade games which mimic many of the simple gambling games including Heads or Tails, Pop Bingo, Rock-Paper-Scissors, Rollercoaster Dice.
After this Playtech review we believe its place as one of the most successful online gambling software providers has been rightfully earned. With a wide variety of games and slots and thoughtful graphic and user interface design, Playtech makes gambling a pleasurable experience. The company has also given the players a fair deal with some of the best odds in the business on many games. Look for the Playtech logo the next time you are shopping around for an online casino and you won't be disappointed.
Editor's Note: Casino Tropez is one of the best casinos online that uses Playtech software. To play for free or for real money at Casino Tropez, click here.
Playtech
15 Themistocle Dervis Street
Nicosia
Cyprus
Phone: +972 361 399 90
Fax: +972 361 399 89
Email:
info@playtech.com
Website: www.playtech.com
Playtech is one of the leading gambling software manufacturers in the online gambling world and is the software of choice for many well-known and popular online casinos. Founded in 1999, Playtech has over 250 personnel distributed globally, around eighty percent of whom are engaged in research and development of current and future gaming technologies.