LAS VEGAS -- William C., 38, from Lake Forest, Calif., became an instant millionaire recently at the Las Vegas Hilton. He also became the first person to hit on the new multi-site progressive Millioni$er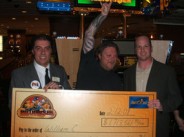 California man becomes instant millionaire by hitting Million$er Jackpot
pWhat happens in Vegas stays in Vegas, unless you instantly win nearly $2 million, then you take it home with you! enny slot by Aristocrat Technologies. William had been playing for about 15 minutes when the lady next to him said, "Excuse me, you've just won over a million dollars."
The $1,713,561.96 jackpot was an unbelievable gift for William who was in Las Vegas celebrating his 38th birthday. "It hasn't sunk in. It's still very surreal!" William said the first thing he is going to do is pay off all his debts. He had invested only $59 in Millioni$er before becoming an instant millionaire.
Bob Stewart, Las Vegas Hilton Senior Vice President of Casino Operations, said, "All of us at the Las Vegas Hilton are really excited to be the first property to have the new Millioni$er multi-site progressive slot hit. It is nice to see someone's life change in an instant!"
Millioni$er became a state-wide multi-site progressive in Nevada last June. The top jackpot will now re-start at $1 million, ready to make another lucky player's dreams come true.
Millioni$er is a Hyperlink® progressive and sports a patented second-screen feature with four different jackpot levels that can be triggered randomly during game play. The four tiered progressives give Millioni$er a higher hit frequency so players win jackpots more often.
Aristocrat
71 Longueville Road
Lane Cove, NSW 2066
Australia
Phone: + 61 2 9413 6300
Fax: + 61 2 9420 1352
Website: www.aristocrat.com.au

With over 50 years industry experience and over 2000 staff globally, Aristocrat has built on its Australian market leadership and reputation to become a leading supplier of ground-breaking technology and services to the international gaming industry. Aristocrat makes slot machines, video reel games, and develops software for gambling applications.