InterCasino's popular Millionaires Club progressive jackpot has risen to over the $3.2 million mark and continues to grow at an exponential rate, driven by increasing number of players are logging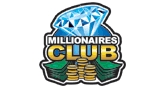 into the game to the special online slots. This new record is further testament to the immense popularity of the Millionaires Club progressive slot jackpot.
The excitement among players is soaring each day as the winner's payout has reached a record high; everybody is waiting for the world's next big online casino millionaire, says Ryan Hartley, Manager of InterCasino.
While the lucky player who could picks up the $3 million plus check from InterCasino will be the richest online casino player, they certainly won't be the first InterCasino Millionaire. Last year's winner, Richard H, took home a colossal $1,067,836,00, and Jon R. of the U.K. collected a staggering $1.77 million. The progressive jackpot attracts a large number of visitors to the online casino, adding thousands of dollars to the total jackpot amount every day.
InterCasino is one of the most respected and innovative online casinos in the world, having hosted over 300 million games and paying out more than $4 billion in customer winnings to date. InterCasino's software is provided by industry leader CryptoLogic, Inc., one of the few software providers certified to strict standards similar to land-based gaming.
WagerLogic
Nimeli Court
41 - 49 Agiou Nicolaou Street
Block A 3rd Floor
Engomi, Nicosia 2408
Cyprus
WagerLogic Limited, a wholly-owned subsidiary of CryptoLogic, licenses gaming software to an internationally-recognized customer base. Premiere gaming companies including William Hill, The Ritz Club London, Intercasino and Betfair all use WagerLogic software.