HAMMOND, Indiana--It's the world's largest slot machine, and it's coming to the Chicagoland area. The highly-anticipated Wheel of Fortune Special Edition Super Spin video slot machine makes its debut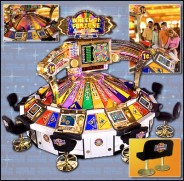 Wheel of Fortune slot machine
on March 1 at Horseshoe Casino Hammond.
Super Spin(TM) is the first slot machine of its kind in the Chicagoland gaming market. The 5 cent denomination game features seating for nine separate player stations that surround a giant multi-player bonus wheel, allowing players to participate in the same bonus game. Players who participate in this "community" game-play experience can choose to participate in a wheel spin, wait for another wheel spin, or play the game by itself.
Horseshoe is taking the excitement of its innovative slot gaming experience to a whole new level with the addition of this popular game. Located on the recently-renovated Diamond level of the casino, Super Spin(TM) will allow multiple players to participate in the same bonus wheel spin to win a variety of generous multipliers based on the maximum coins played per line. Bonus-eligible players have a 10-second countdown to participate in a wheel spin, once another player has pressed the spin button. To be eligible to spin the big wheel, players must have all 10 lines covered and an equal amount as a side bet. Maximum payout is $10,000.
The game is complemented by extra wide, comfortable seats and features overhead plasma screens displaying the status of each player. Status categories include: Active (base game), Bonus Eligible, Bonus Eligible Participant (playing the current wheel spin), Bonus Participant (playing the next spin), Spinning the Wheel and Wheel Results.
"We are thrilled to have the only Super Spin machine in the Chicago area," said Rick Mazer, Senior Vice President and General Manager for Horseshoe Casino.
"We pride ourselves on keeping our customers satisfied by constantly updating our slot floor with new product. In the past few months, we have made various changes to our casino floor, including the addition of our exclusive and hugely successful 'Deal or No Deal' games and the opening of new slot areas such as Jack's Room and Horseshoe Hideaway. The introduction of the new
Wheel of Fortune
Super Spin is another element in providing our guests with the latest slots and the most innovative casino floor in the market."
International Game Technology (IGT)
Corporate Headquarters
9295 Prototype Drive
Reno, NV 89521-8986
The leader in slot machine manufacture, IGT produces hit after hit including popular favorites Megabucks, Wheel of Fortune, Double Diamonds, to the latest innovations. The website features details on the slots, video slots and other products that IGT is famous for. There's also a Gamefinder function which allows you to search for the locations of your favorite games. Financial and technical information for investors and slot directors is also included.
Horseshoe Casino Hammond
Website: www.horseshoe.com