32 Vegas Top Spot for Gamblers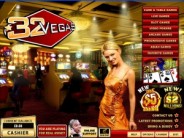 32 Vegas has a huge variety of slot machines, enough to satisfy any slot fanatic. The casino has over 30 video and classic slots to choose from including 7 progressives. You can play as little as a penny per spin all the way up to $5 per line. There are 2,3,5,8, and 9 line slots. Some of the outstanding video slot titles are Gold Rally, Vacation Station and Desert Treasure. Popular classic slots include Fountain of Youth, Bermuda Triangle, and Haunted House. With great variety, fantastic graphics, and innovative themes, 32 Vegas slots are a good thing.
Roxy Palace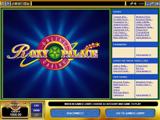 Roxy Palace is the most popular Microgaming software casino in the world today. With excellent customer support, a wide variety of slots and games, and generous bonus rules, Roxy Palace has earned its recommendation as one of ReadyBetGo's favorite casinos. The site is constantly adding new slots and games and now features Single Deck Blackjack. For a rewarding online experience, try Roxy Palace. Currently, Roxy Palace Does Not Accept US Players.
LAS VEGAS, NV - Arthur Romero, a 62-year-old Amarillo, Texas resident, drove home Sunday a proud owner of a Limited Edition 2008 Barrett-Jackson Shelby GT along with more than $39,000 in cash. Romero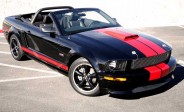 won the new Mustang, valued at $50,000, when he hit one of the Barrett-Jackson slot jackpots at the Mandalay Bay Resort & Casino.
Romero, who was on vacation with his wife, said he was overwhelmed when the machine's three Barrett-Jackson symbols lined up in a row, "I can't believe I won the jackpot here at Mandalay Bay. It was quite a surprise and it didn't even sink in that I had won until we were driving the car home. In fact, I think my wife was more excited than I was because she forgot our room number when going to get her cell to call home."
When asked how he decided to play the IGT-manufactured games Romero said, "We had actually been there (in the casino) earlier that day but left to walk around the Strip. Then we came back later and I looked over and saw the car symbols on the machine, not even the car display itself. I put $20 into the machine and it hit after only five or six spins. I yelled to my wife that I had won and she kept saying 'are you sure' and I said 'about as sure as I can be.' We will definitely come back to Mandalay Bay because we really like the resort and all of the personnel here are extremely helpful."
Three American automotive icons, Ford Motor Company, Barrett-Jackson Auction Company and Shelby Automobiles, collaborated to create collector car history with the Limited Edition 2008 Shelby GT. The companies unveiled the 2008 Barrett-Jackson Shelby GT at the Arizona International Auto Show in November 2007 and a total of only 100 models, in both coupe and convertible body styles, were sold through only Arizona Ford dealers. Romero's model is No. 8 of 100 and is equipped with a 319-horsepower, 4.6-liter 3V OHC V8 engine and a five-speed manual transmission. The features of the Barrett-Jackson Edition include Barrett-Jackson Red LeMans hood and side stripes, Barrett-Jackson Edition door sill plates and a special gas cap insert.
Collector car aficionados from around the world made the Mandalay Bay Events Center their home for a week in October 2008 when the Barrett-Jackson Auction Company brought their acclaimed auction and lifestyle event to the property for the first time. Hundreds of collector vehicles were sold at No Reserve during the auction while SPEED cameras captured live, high-definition coverage. The event is scheduled to return to the Mandalay Bay Events Center this fall.
The slot machines were developed jointly by Mandalay Bay and Barrett-Jackson and display reel symbols which represent a number of the various automobiles presented during the October 2008 show at the Events Center. Mandalay Bay is working with Barrett-Jackson to display a new car in the near future.
Mandalay Bay Resort and Casino
3950 Las Vegas Blvd. South
Las Vegas, NV 89119
Phone: (702) 632-7777
Toll Free Phone: (877) 632-7800
Website: www.mandalaybay.com

The Mandalay Bay Casino and Resort is a high-quality property on the Las Vegas Strip. The resort features over 3,300 guestrooms, making it one of the largest hotels in Las Vegas. The casino boasts more than 120 tables with a large variety of table games, including roulette, poker, blackjack, craps, and more. High-rollers enjoy their own high-stakes area. If you prefer slots and video poker machines, the casino has over 2,400.