Club USA Casino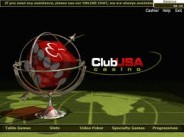 Club USA Casino has burst onto the online casino scene and has won a lot of support from online gamblers. Accepting players from around the world, including the US market, Club USA Casino has a wide variety of slots and games on offer. The casino also has a good sign-up bonus and great customer support. For fun casino action, check out Golden Casino. Club USA Casino accepts US players.
Great Video Poker at Club USA Casino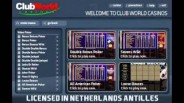 Club USA Casino offers a huge variety of video poker machines in a range of denominations. There over 14 different video poker games including Deuces Wild, All American Poker, Jacks or Better, Joker Poker and more. Many are available in multihand video poker format. Coin-in choices range from $.05 to $5.00 on single hand machines and $.01 to $1.00 on multi-hand machines.

Intercasino
Intercasino is one of the oldest and most popular online casinos in the world today, including the latest Marvel Comic video slots including Blade, The Hulk, Punisher and X-men.
DUBLIN, Ireland -- CryptoLogic Limited, a world leader in Internet casino and branded gaming software, today announced the launch of a new downloadable game lineup that features a video slot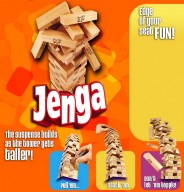 CryptoLogic introduces Jenga to their line-up of new downloadable casino board games version of Jenga, one of the world's most popular and recognizable board games. The new game pack also features Buccaneers Bounty Video Slot Game and 4 Deck Atlantic City Blackjack. The games will be available exclusively at www.intercasino.com, www.casinojoy.com and www.dtdcasinos.com.
"Adding Jenga to our line-up is another example of CryptoLogic's ability to take the world's most popular branded casual games and turn them into a compelling, captivating casino experience," said Brian Hadfield, CryptoLogic's President and CEO. "Cryptologic's greatest strength is extraordinary e-gaming innovation — and that leads to games that are popular with players, and profitable for our customers."
Jenga
Jenga is recognized worldwide as a game of suspense and strategy that is simple to learn and easy to play. This universally recognized classic game has been enjoyed by players around the globe for many years. Jenga now is available in CryptoLogic's colourful, feature-filled casual slot game.
CryptoLogic's new video slot Jenga is true to the Jenga experience: a surprisingly daring game that builds to a suspenseful climax. The game is an 18-payline slot game incorporating rich graphics, animations, and sound effects. Players can play either 9 or 18 lines, and win a maximum payout of 50,000 coins per game round. This game delivers the "Edge-of-Your-Seat Fun" that players expect from Jenga.
Buccaneer's Bounty
Did you ever want to be a pirate, complete with skull and crossbones, swords and a pirate's bounty? Here's your chance! Buccaneer's Bounty is a 20-line slot game with two adventurous bonus rounds and a chance to win up to 6,000 times your bet. You also have the chance to defend the island or be the pirate as the bonus feature gives you the option of two exciting games with two different perspectives.
4 Deck Atlantic City Blackjack (single player and multiplayer)
Blackjack enjoys worldwide popularity. In this version, the dealer receives a second card (or hole card) before the players complete their hands (as is commonly found in most Atlantic City and Las Vegas casinos). Players also receive a higher payout percentage with a higher minimum bet than the standard 8 deck blackjack.
"Our impressive list of branded casual games already includes Bejweled, Cubis, Sudoku and Jewel Quest. The addition of Jenga strengthens Cryptologic's position as the premier innovator in Internet casino software," said Justin Thouin, CryptoLogic's Vice President.
Boasting more than 280 games, CryptoLogic has one of the most comprehensive casino suites on the Internet today with games featuring some of the world's most famous action and entertainment characters. CryptoLogic has earned rave reviews from industry peers and players alike, and in 2009 earned Gambling Online Magazine's Top Casino Software award for the fourth consecutive year. Based on the votes of players around the world, it is widely considered the industry's top honour.
CryptoLogic
55 St. Clair Avenue West
3rd Floor
Toronto, ON M4V 2Y7
Canada
Phone: (416) 545-1455
Fax: (416) 545-1454
Website: www.cryptologic.com

CryptoLogic is a leading software developer in the rapidly expanding Internet gaming industry. Individuals registered in 240 nations and territories worldwide use their software.