DUBLIN, Ireland -- CryptoLogic Limited, a world leader in Internet casino and branded gaming software for adults outside the United States, today announced the signing of an exclusive multi-year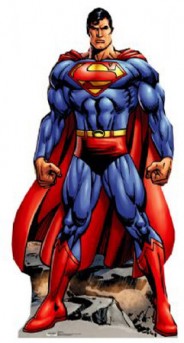 licensing agreement with Warner Bros. Digital Distribution and DC Comics to bring Superman, Batman and other members of the World's Greatest Super Heroes to leading Internet casinos starting in the fourth quarter of 2009.
The deal was announced as CryptoLogic earned the industry's top honour — Gambling Online Magazine's Top Casino Software Award — for the fourth consecutive year. The agreement and the award solidify the company's position as the Internet gaming industry's leading creator of branded games.
Big brands expected to drive revenue growth
Under the licensing agreement, CryptoLogic will create games featuring legendary characters such as Superman, Batman, Wonder Woman, Green Lantern, and the Flash. These heroes have provided the inspiration for movies, television shows, and even Broadway musicals, and are universally recognized by fans all over the world.
Targeted for an adult audience, CryptoLogic's existing games featuring superhero characters have proven highly popular with Internet gaming operators and their players, generating significant licensing revenue for CryptoLogic.
"CryptoLogic leads the way in bringing the world's biggest entertainment brands to the world's best Internet casinos — and there are few brands bigger than the DC Super Heroes," said Brian Hadfield, CryptoLogic's President and CEO. "It's all about doing what we do best: branded games are the fastest-growing part of our business, and we expect these and other games will help drive CryptoLogic's revenue growth for years to come."
CryptoLogic wins Top Casino Software Award for fourth consecutive year
CryptoLogic's leadership in branded games has also catapulted the company to Gambling Online Magazine's Top Casino Software Award for the fourth consecutive year. Based on the votes of thousands of readers, players and website visitors around the world, this award is recognized as the industry's top honour.
CryptoLogic also earned two other major awards: the Best Software Award from Casinomeister.com, a site that provides information and news on online gambling, online casinos, player issues and industry events; and the Best New Slot Game of the Year Award from AllonlineSlots.com for CryptoLogic's King Kong slot game.
"At CryptoLogic, we're proud to have earned such confidence from players, and from a growing list of top-tier entertainment brands," said Justin Thouin, CryptoLogic's Vice President, Product Management and Business Development. "These new games and new awards validate CryptoLogic's strategy to offer the most innovative casino software and branded games on the Internet."
CryptoLogic
55 St. Clair Avenue West
3rd Floor
Toronto, ON M4V 2Y7
Canada
Phone: (416) 545-1455
Fax: (416) 545-1454
Website: www.cryptologic.com

CryptoLogic is a leading software developer in the rapidly expanding Internet gaming industry. Individuals registered in 240 nations and territories worldwide use their software.