LAS VEGAS, NV - Guests will have the unique opportunity to win prizes ranging from $1,000 in slot freeplay to $500,000 cash upon entering the exclusive March Millions Slot Tournament at Bellagio.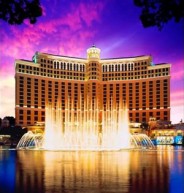 The one-of-a-kind, high-end tournament, to be held Friday, March 20 & Saturday, March 21, will offer a prize pool totaling more than $1.8 million.
This premiere high-stakes event will consist of four, two-day challenges divided into a 50-player event, 25-player event, 20-player event and 10-player event. The entry fees for these events are $5,000, $10,000, $25,000 and $50,000, respectively, and players are able to compete in multiple events. The 10-player event gives players a one-in-10 chance of winning $500,000 cash.
Each event will feature three 15-minute sessions with the first beginning Friday at 1 p.m. All players will use tournament slot machines that do not require an additional wager. In each session, competitors attempt to accumulate as many points as possible with each spin. At the end of session three, all scores are totaled to determine the overall winner.
The winners of the 50-player and 25-player events will each take home a prize of $250,000 cash. The winners of the 20-player and 10-player events will each be awarded the $500,000 first-place prize. All other participants will win slot freeplay based on their respective finish.
Tournament registration and a private reception for all entrants are scheduled for Friday from 11 a.m. - 1 p.m. The second and third sessions of competition will be played Saturday from 11 a.m. - 3 p.m. Prize distribution is scheduled approximately one hour following the conclusion of session three.
Guests are encouraged to contact Bellagio as soon as possible as there are a limited number of spots in each event. For more information call Bellagio Casino Marketing at (888) 987-7887 or visit www.bellagioslots.com.
Bellagio Resort and Casino
3600 S. Las Vegas Blvd.
Las Vegas, NV 89109