SCOTTSDALE, Arizona -- Atronic is proving 'That More Than Just A Game' is not just a tagline at this years National Indian Gaming Association (NIGA) Tradeshow, set to take place March 25th through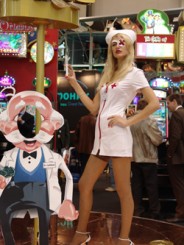 Game of Life Slot (model not included) March 28th at the Phoenix Convention center. With the great people, innovative concepts, and visually stunning games Atronic truly is "More than Just A Game".
Visitors to booth 901 will get a taste of what's new and exciting. Headlining is The Game of Life(TM), a linked gaming concept licensed from Hasbro, based on Milton Bradley's best-selling board game. Already a hit with players in some US jurisdictions, Game of Life(TM) features entertaining graphics and animations brought to life in the unique e-motion(TM) cabinet. Game of Life(TM) is available with four already successful titles, Granny's Trucking(TM), Avalanche of Cash(TM), Bedazzled(TM) and Secrets of Africa(TM).
The big ape comes to life with King Kong Cash(TM). This is the latest linked gaming concept based on the famous Universal Studio's movie. The concept features a four-level progressive jackpot and interactive bonus round supported by three individual titles, Tiger and Dragon(TM), Treasure Cats(TM) and Jungle of Gold(TM).
Other linked gaming concepts showcased include the four level dynamic bonus link Cash Fever(TM) shown with new game themes, Wide Area Progressive eMillions(TM) as well as Deal or No Deal(TM).
Hot Link(TM) and Mystery Magic(TM) are two new progressive concepts unique to Atronic and a first in the industry. Hot Link(TM) is a symbol driven progressive, and Mystery Magic(TM) is a mystery-driven concept where no winning combination is required to win the jackpot. Both concepts allow the operator maximum flexibility to select any Hot Link(TM) and Mystery Magic(TM) capable titles from the e-motion(TM) library and insert it into a progressive bank.
Atronic is excited to display Passion Slots(TM), a brand new three-reel stepper. Two five level linked progressives, Treasure Hunter(TM) and Lady Orleans(TM) will be featured. Passion Slots(TM) feature Atronic's unique "Progressive Fireball Button", designed to encourage play and facilitate player comprehension and enjoyment.
Atronic
Borsigstrasse 26
L?şbbecke 32312
Germany
Phone: +49-5741-273 720
Fax: +49-5741-273 727
Website: www.atronic.com

Atronic holds 190 worldwide gaming licenses including the USA, where it is licensed to sell machines in 24 states and to 140 tribes.