The game of roulette is among the oldest games of chance with roots dating back hundreds of years to the Middle Ages. Like many games you will find in the casino, chance is not the sole deciding

There are occasions when we here at ReadyBetGo want to bring you interesting facts about the gambling industry When something catches our eye, we will publish it for your enjoyment.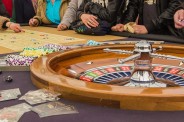 factor when maximizing winnings and minimizing losses. Winning is not easy because the game itself is designed to make all certainty of turning a profit quite impossible.
But it can be done, there would not be such an enthusiastic following of die-hard gamblers if the game couldn't be beat. If you have approached the game and met disappointing losses, don't quit. This following article will illustrate some of the best practices that can lead to higher profits, diminished losses and most importantly a more enjoyable experience at the roulette table.
By studying the following tips for playing roulette you will greatly improve your gaming experience and set yourself up for some spectacular plays, while increasing your chance of seeing some real roulette money. So without further ado, here are the top tips for making the most from your time at the roulette table.
No. 1 — Understanding your betting system
The single most important thing is to develop a steadfast betting system. The Martingale Betting system is a perfect example of how adherence to a plan can all but assure a positive outcome. (For more information on the Martingale Betting System, click Here). The idea is to begin with the lowest betting minimum at the table and place your bet on even-odds wagers like high and low, black or red, even or odd.
You will stick to the same bet against your urges to change. Each time you lose you will double the wager. This way when you do win you will be up one point. Then begin at the bottom and keep repeating this process. While it lacks the flare and panache of gigantic winnings it also successfully avoids the chances of huge losses. This can keep you in the game long enough to see a profit.

No. 2 — Look for European roulette
Avoid playing American roulette if at all possible, if European roulette is available you will find the odds are slightly in your favor. This is because European roulette lacks the "00" space. Remember that every small advantage you can steal from the house tilts the playing field slightly in your favor. This is one place where a player's advantage is great.
No. 3 — The House Edge and the "Sequence of Death"
Speaking of avoiding the house advantage or edge, if you will be playing good ol' American roulette, beware of the 5 step "sequence of death". A bet that follows this pattern, 0-00-1-2-3 carries the worst odds possible and adds a full 7.89% to the house edge.
No. 4 — Make your cash Last
You will thoroughly enjoy your gaming experience and increase your time at the table as well as your chances for a bigger win, if you stick to bets that payout even cash. This includes betting options like low (1-18) or high (19-36), black or red, odds or evens. The great thing about the options is the over 47% payout percentage they carry. In the world of real money roulette mastery this is solid gold.
No. 5 — Exploit combination advantages
A little secret from the professionals can be exploited for great advantage. The thing is these little spaces on the roulette table are not as evenly distributed as you may think. If you examine the first, second and third set of twelve blocks, you will notice they have an even 6 red and black, even and odd spaces each.
Now if you look at the table's rows or columns of twelve, you notice something different. The bottom row is completely even (6 black 6 red), but the second row has 8 black and only 4 red and the top row has 8 red spaces and 4 black. This presents the opportunity or advantage.
Basically you can make a bet that covers a whole third of the board by betting a combination of color and either the top or middle rows. Make an equal bet on whichever color appears most often in that row and the row itself. If you win the row bet you have a good chance of winning the color bet as well. If you don't win the row bet you still have a 47% chance of winning the color bet and this can help you offset your losses.
No. 6 — Properly administering your bankroll
At the heart of successful roulette gambler is a solid bankroll administration. If you have a $200 dollar bank roll, you could enter the casino and make 4 x $50 bets, and either win big or lose it all in about 10 to 15 minutes. A better practice is to make your cash last longer by dividing it into smaller sections. Ten $20 bets are far more advantageous.
No. 7 — Save profits
On the point of bankroll management, remember to jot down a plan for what to do with their winnings. Many people enter the casino with a clever plan that didn't include the possibility of winning, then their well-executed plan hits the skids.
A good policy is to save half of each of your winnings and add the other half into your bankroll. This way you will end the night with a bit more in your pocket rather than a bit less.
No. 8 — Play with "Play Money"
Remembering that roulette is a game that will allow you to enjoy the experience all the more, big wins as well as inevitable losses. To do this never use your rent, food shopping or any other dedicated cash when playing roulette. You will want to have a bit of cash set aside for your gaming pleasure and call it your roulette bankroll. Remember there is a process to adding to this bankroll and never make spur of the moment changes to this process.
No. 9 — But, how do I win BIG?
Ok, so what if you are tired of the small progress and want to see some real roulette money, either coming or going. If winning is not the most important thing and the thrill of the game is desired, then placing big bets is how you will walk away with substantial cash prizes. To ensure the best outcome possible, choose the bets with the highest payouts. These are single-number bets with a ratio of 35:1, two number bets 17:1 and three number bets 11:1.
No. 10 — Enjoying the Game
As you probably know, roulette can be one of the most exciting games in the casino and is pretty amicable in terms of a milder house edge than other games. By taking a intelligent and intuitive approach to the game it is quite possible to win. The most important key to winning will be to remove your focus from winning to playing. This will allow you to spend and lose without guilt or pressure and occasionally win with pomp and elation.