TitanPoker.com, one of the fastest growing online poker rooms, has launched its popular poker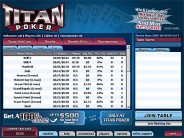 Titan Poker software in Dutch. This latest addition is part of ongoing expansions and upgrades to the Titan Poker software. Titan Poker is available in twelve different languages – English, French, German, Italian, Spanish, Polish, Swedish, Norwegian, Danish, Finnish, Russian and now Dutch.
New players are given the option to choose the language of their software when downloading the Titan Poker program. Players can then play poker with international opponents, while viewing menus and information in their native language. www.titanpoker.com also provides multi-lingual support services, including email responses and online chat support.
With its graphically pleasing software now in Dutch, Titan Poker expects a huge growth of its player activity in the Netherlands.
Titan Poker will soon host ECOOP IV, a highly anticipated online poker tournament series with a massive $4,550,000 guaranteed prize pool. Set to start on May 25th for two weeks, ECOOP IV also offers players a great variety of popular games to choose from and the chance to win amazing prizes. The first Satellites to this incredible event will begin in March.

Titan Poker offers excellent graphics, great Online Support, a full selection of games and an large array of free-rolls. Titan Poker's software was developed and maintained by Playtech, one of the leading online gaming software companies, with vast experience from the "brick and mortar" casino world.