Free Slot Tournaments Going on Now at Roxy Palace!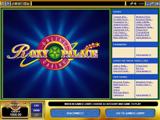 Roxy Palace has slot tournaments 24 hours a day with guaranteed freerolls and free buy-ins. There's a huge variety of types of tourneys to enjoy. Sign up now, join the fun and win some cash!
Find Loose Slots... Play Online!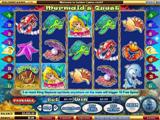 Roxy Palace has some of the loosest slots on the web. Their selection is huge and with less overhead, employee costs and taxes than your typical brick and mortar casino, they can afford to give back a bigger percentages of bets back to the customer. If you're looking for loose slots, play online!
This summer players can enjoy three incredible jackpot promotions with generous cash prizes at Titan Poker.
The $50,000 Summer Jackpot Race is based on daily and weekly races where points are accumulated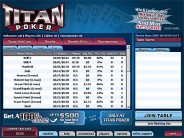 Titan Poker
and placed on a leader-board. The top 50 players at the end of the month will share in a jackpot prize of $30,000. The Summer Jackpot takes place on four consecutive days and if a player finishes in the top 10 for four days in a row they will be rewarded a prize of $500. All players have an equal chance of winning their share in the weekly and monthly prizes, as well as the side-pot jackpot.
The Titan Double Tournament takes place every night, just five minutes apart. If a Titan Poker player wins two
tournaments
on the same night they will be rewarded with the Titan Double
Progressive Jackpot
. This jackpot continuously increases until the pot is won.
Fort Knox - Jackpot Sit 'N' Go Tournament will reward players who win six tournaments in a row with a grand prize starting at $50,000. The Fort Knox is a six-player, $50 + $9 sit 'n' go tournament. As soon as six players sit down at the table, the action begins. The Jackpot is progressive and grows larger each week until claimed.
Titan Poker invites both amateur and skilled
poker
players to take part in these three superb Summer Jackpots. This promotion is for a limited time - the earlier players join, the sooner they can start to reap the rewards.
Titan Poker offers excellent graphics, great Online Support, a full selection of games and an large array of free-rolls. Titan Poker's software was developed and maintained by Playtech, one of the leading online gaming software companies, with vast experience from the "brick and mortar" casino world.