GIBRALTAR -- Party Poker is delighted to announce that it has renewed its association with poker legend Mike Sexton. Mike will act as a host, consultant, ambassador and player for the leading online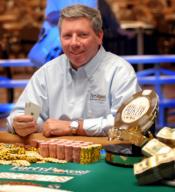 WSOP Tournament of Champions winner Mike Sexton, spokesman and host for PartyPoker.net. (PRNewsFoto/Partygaming PLC) poker room.
Sexton, who has acted as the host of PartyPoker.com in the past, is unarguably one of the most respected figures in the game. As the face and voice of the World Poker Tour and holder of a WSOP bracelet, Mike is truly one of the games pioneers. Sexton is in the top ten for the most cashes at the World Series of Poker® and is instantly recognizable to poker enthusiasts around the world. Regarded as 'The Ambassador of Poker,' for years Mike advocated corporate involvement with poker to take the game he loves into the mainstream. Notably, Sexton also won the first $10k buy-in NL hold'em championship event at Foxwoods World Poker Finals in 1992 and in 2000 was the first American to win the championship event at the Euro Finals of Poker in Paris, which at the time was the biggest event in Europe.
Through his role with the World Poker Tour Mike coined the legendary famous poker phrase "it takes five minutes to learn but a lifetime to master." In 2006 Sexton won the Tournament of Champions at the World Series of Poker®, a concept he had originally created. He donated $500,000 of his winnings to charity and has since become a co-founder of www.pokergives.org/, which encourages players to make charitable donations.
"PartyPoker.com has always had a place in my heart and is special to me. I am delighted to pen a new deal, it means so much to me," said Sexton. "I am looking forward to representing them in events around the world and meeting the online package winners at the WSOP. I also relish my role as a consultant advising on poker room matters."
"The site has changed a lot in recent times and I am very impressed by the new software and new VIP and loyalty schemes."
A spokesman for PartyGaming Plc, owners of PartyPoker.com said: "We are truly delighted to renew our association with Mike Sexton. Mike is the 'Ambassador of Poker' and we hope he gets the acknowledgement he deserves and is inducted into the WSOP® Hall of Fame this year. Poker wouldn't be as popular as it is today if it wasn't for Mike Sexton."
Sexton will be representing PartyPoker.com at the WSOP® and at events worldwide throughout 2009. PartyPoker.com will have a suite at the Rio around the World Series of Poker® Main Event, where Mike will act as a host. Mike will also be making contributions to the PartyPoker.com blog blog.partypoker.com/ and nurture new poker talent on behalf of the site.
World Series of Poker"®, "WSOP®" and "WSOPE"® are registered trade marks of Harrah's License Company LLC. No license, affiliation, sponsorship, or endorsement is claimed, or should be inferred from the use of these trademarks here. PartyGaming is not licensed by or otherwise affiliated with Harrah's License Company LLC or the World Series of Poker®, in any way.

PartyPoker.com is the world's largest online poker brand in terms of number of players and revenues. The company is licensed in Gibraltar.