BLACKHAWK, Colorado -- Executives at Heartland Poker Tour are in overdrive as the production company runs two simultaneous televised events, while also inking contracts with two of the biggest names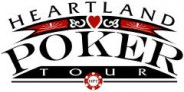 The Heartland Poker Tour is a big success in the poker world. in poker this week.
PokerStars.NET, "The World's Largest Poker Site", will join HPT as a title sponsor in season five, which is currently on tour and in production.
"Our partnership with PokerStars kicks off an exciting new direction for our company," says Heartland Poker Tour President Todd Anderson. "We are eager to connect with their giant fan base and introduce PokerStars to our loyal viewers and players."
PokerStars.NET boasts over 20 million members worldwide and is noted in the Guinness World Record books for having the most players simultaneously playing poker online. Also the site of "Team PokerStars Pro," it is home to many notorious names in poker, including Daniel Negreanu, Greg Raymer, Joseph Hachem, and Chris Moneymaker.
Heartland Poker Tour viewers will see tips from Negreanu on the show each week through another new sponsor, Poker VT. The interactive virtual training site offers exclusive one-on-one training with Negreanu and other poker experts for its members.
"We consider ourselves to be the premiere online poker training site and The Heartland Poker is the premiere poker tour so the relationship is a perfect fit," says Poker VT Sales and Marketing Director Matt Carpenter. "PokerVT.com is very thrilled to be welcomed on board by the HPT family as one of their sponsors."
The Heartland Poker Tour embraces the new partnerships at a busy and prosperous time for the company. HPT is filming four episodes of the popular poker show in both Colorado and Iowa this week. Meskwawki Bingo Casino Hotel in Tama, Iowa, will host its fifth televised final table on Sunday, March 29. Nearly 700 miles to the west, Golden Gates Casino in Blackhawk, Colorado, is expecting another prize pool in the $600,000-range for its event running now and culminating on April 5th.
"It just keeps getting bigger and bigger with every event," says Jef Bauer, Vice President and General Manager with the Golden Casino Group. We are thrilled to be hosting HPT for the fourth time."
Executive Producer Greg Lang credits the fan base of "real people" for the Heartland Poker Tour's popularity. "We reach the players who got hooked on poker in the neighbor's garage," Lang says. "For them, the game is still about having fun with some buddies."
PokerVT's Carpenter agrees that the "regular Joe" demographic makes the Heartland Poker Tour a hit. "The HPT is the only tour where I've seen players who are so excited to play poker not only for the prize pool, but to catch up with old friends as well," he says.
For Bauer and the Golden Casino Group, the players' enthusiasm is a winning hand for their property. "This event has really built a lot of excitement in the Colorado poker world and has been amazing for our business at Golden Gates Casino and Poker Parlour," he says.
Two major events in two states means a busy week of work for the HPT crew, but also twice the opportunity to pick up a cash game while on site. "Work hard, play hard," Lang says about his dream job, "Conveniently, we are the target market."

Plaza Roble Corporate Center
San Juan
Costa Rica
PokerStars.com is a fun, safe place to play poker with people from around the world for real or play money. The site offer the most popular poker games such as Texas Hold'em, Omaha and Stud. Real money limits range from $0.01/0.02 to $100/$200. PokerStars is an official member of the World Poker Tour, and the title sponsor of the European Poker Tour (EPT) and the PokerStars Caribbean Adventure. In the fall, PokerStars hosts the world's largest online tournament, the World Championship of Online Poker (WCOOP).