GZIRA, Malta -- Poker legend and World Champion Scotty Nguyen is the new exclusive poker ambassador at online gaming company Expekt.com. The contract starts at May 15.
"This will be fun,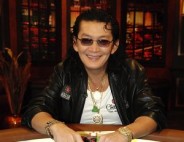 Scotty Nguyen, poker ambassador to Expekt baby. I am looking forward to working with Expekt.com and make their successful poker even more popular," says Scotty Nguyen.
Nguyen, nick-named "The Prince of Poker," has won over $10 million in tournament winnings, and is, without doubt, one of the world's most recognized poker players of all time with his unique charisma and merits.
Why Expekt.com, Scotty?
"I like Expekt.com and its plans. It will be fun to be part of Expekt.com's future and help them to make their successful poker even more popular."
What will you do?
"I will, for example do an exclusive video blog twice a month, plus write a column once a month where I will focus on poker strategy. Overall, I will be the face of Expekt.com Poker and play WSOP and more live tournaments in the late summer and autumn. It will be great fun, baby."
Nguyen became World Champion back in 1998 when he won the WSOP Main Event. He is currently the only player in the world who has won both the WSOP Main Event and the $50,000 WSOP H.O.R.S.E event. He won the massive H.O.R.S.E title last year in 2008, a title viewed by many to prove whom is the best all round player on the planet with the huge buy-in and challenging structure.
"We are really looking forward to working with Scotty," says Dan Vikman, PR manager at Expekt.com.. "He is the prince of poker and our poker customers have an exciting 2009 to look forward to with Scotty onboard."
Scotty Nguyen fact file
Age: 46
Date of Birth: 10/28/1962
Birthplace: Nha Trang,Vietnam
Nickname: The Prince of Poker
Career Highlights
2009: LA Poker Classic H.O.R.S.E, 1st $339,743
2008: WSOP $50,000 H.O.R.S.E, 1st $1,989,120
2008: European Poker Championship _20,000 High Roller Event, $251,776
2007: WSOP Main Event Championship, 11th $476,926
2006: WPT Legends of Poker, 6th $133,095
2006: WPT Gold Strike Open, 1st $969,421
2005: WPT Jack Binion World Poker Open, 4th $336,282
2004: Festa Al Lago III $2000 Final, 1st 185,653
2004: WPT Mirage Poker Showdown, 5th $121,509
2004: WPT Part Poker Million, 6th $129.342
2001: Foxwoods World Poker Final 1st $ 159,600
2001: WSOP $5,000 Omaha Hi-Lo Split Eight or Better 1st $ 207,580
2001: WSOP $2,500 Omaha (pot limit) 1st $ 178,480
1998: WSOP Main Event $10,000 No Limit Holdem, 1st $1,000,000