LOS ANGELES, California -- Starting May 1, members of the World Poker Tour's subscription poker website, www.ClubWPT.com, will have the chance to win entry into the 2009 World Series of Poker (WSOP)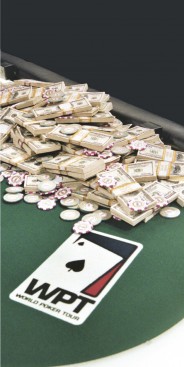 main event. In addition to the $10,000 buy-in, winners will also receive $1,000 in travel allowance.
Manaman420, member and winner of a 2008 WSOP seat, said of his experience: "This is surreal. I am a waiter, and this prize package is worth more than half of my annual salary, truly an opportunity of a lifetime! Poker is a passion of mine and getting to play in the Main Event is any poker player's dream. A dream which [ClubWPT has] made a reality for me and another lucky winner."
Based on sweepstakes law, www.ClubWPT.com is a legal, risk-free way to play poker and blackjack to win cash and prizes. Members subscribe to www.ClubWPT.com for $19.95 a month and receive "tournament points" to buy-in and play in tournaments of all levels, as well as membership benefits including magazine subscriptions, coupons, and other content. Prize payouts vary from tournament points to $20,000 prize pools to WPT Cruises, WPT Boot Camps, WPT main event seats, and more. To date, www.ClubWPT.com has awarded more than $2.4 million in prizes.
The WSOP prize will be awarded to each winner of the "Month End $20,000 Tournament"(s) on May 30 and June 30. The "Month End $20,000 tournament" starts at 9:30pm ET and requires a 500-point buy-in, but members can win entry by placing in the top 10 during any of the daily 10-point "$20,000 satellites" running from May 1 through June 30 at 1:30am, 8:00am, 9:30am, 12:30pm, 3:30pm and 11:45pm ET.
In addition to the WSOP main event seats, www.ClubWPT.com is also offering several new tournaments:
The PPI Elite Bounty Series $1,000: Pits ClubWPT members against some of the biggest names in professional poker. To sweeten the pot, each of the PPI Elite players has a $50 bonus bounty on his head – so when you knock 'em out, you walk away with an extra $50 bucks!
Wanted Tournament: You've busted Bounties before—now it's your turn! Win this tournament and you receive entry to play in this month's $20,000 / World Series Seat poker tournament with a cash bounty on your head. Make it to the final table and earn an extra $100. Win the tournament and earn an extra $500.
Cinco de Mayo $1000: Commemorate the independence of Mexico! Win your share of the $1,000 prize pool and a $100 gift card to Chevy's Mexican Restaurant.
Memorial Day $500: On this day that honors our service men and women, the tournament winner will receive the award-winning DVD set of Tom Hanks and Steven Spielberg's Band of Brothers.
Watch All-New Season VII Episodes Online: No more setting your DVR or Tivo! Now ClubWPT members get exclusive access to watch all-new Season VII episodes online.
World Poker Tour (WPT)
5700 Wilshire Boulevard
Suite 350
Los Angeles, CA 90036
Phone: 323-330-9900
Fax: 323-330-9901
Website: www.worldpokertour.com

The World Poker Tour (WPT) can be seen in more than 116 countries and territories throughout the world. WPT consists of 17 high stakes poker tournaments filmed at glamorous locations throughout the world, including Bellagio in Las Vegas, Foxwoods Resort Casino in Mashantucket, CT, Aviation Club de France in Paris and the Borgata in Atlantic City. Each year the Tour culminates in the WPT World Championship in Las Vegas at Bellagio in April, drawing the leading pros and accomplished amateurs from around the world for an $8-12 million prize pool.