Sharks in the Desert
by John Smith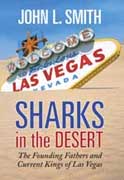 One of Nevada's finest newspaper columnists and authors here has penned one of the best biography-history combination books ever with tis work which focuses on those folks who made big money in the casino business. How HAS Las Vegas changed since the early days? Who were the visionaries, the entrepreneurs, those who anticipated what it has become today? Also, what changed the perception of Las Vegas as an 'outlaw city,' to 'a community that prospered because it remained intriguing and was able to constantly reinvent itself'? From Meyer Lansky and Bugsy Siegel, the Flamingo and El Rancho to the earliest days of the Frontier and Stardust, Smith takes us on a historic trip, focusing on the people, their dreams, what went right, what went wrong and how it all led to the Las Vegas we know today.
Read a review of Sharks in the Desert

Vegas Today and Tomorrow
Visit the website 'Vegas Today and Tomorrow' for more details of the plans around the many upcoming Las Vegas projects. The site provides maps, renderings, and bit of history behind the current schemes.
Las Vegas Casino Death Watch
Nick Christenson's tongue-in-cheek Las Vegas Casino Death Watch is where gambling properties are listed much like an aging relative or sick friend. As Nick says 'We'll shed a tear when they're gone, but it may be time to take a dose of reality and come to terms with the fact that these places may not be around much longer, so we should enjoy them while they're still with us.' Photos, videos, news and other bits of information are provided.
AccesVegas.com
AccessVegas has all the best deals for your next visit to Las Vegas. Whether its booking a room, getting tickets for a show, or even getting a limo from the airport, AccessVegas has what you're looking for at a great price. Their website also has streaming videos of Las Vegas attractions and events, a complete list of upcoming concerts and a free Las Vegas Newsletter. If it's Las Vegas you are interested in, check out Ted Newkirk's AccessVegas.com!