LAS VEGAS, Nevada -- As reported by the Las Vegas Sun: "Just months ago MGM Mirage, with billions of dollars in cash at its disposal, was thought to be well braced for the recession.
But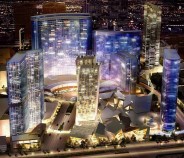 MGM MIRAGE CityCenter last week's news that MGM Mirage has tapped the remaining money from a $4.5 billion credit line is adding anxiety among investors for the company's future.
And in a sign of how swiftly the nation's economic headwinds have stiffened, analysts now say Nevada's largest employer is at risk of filing for Chapter 11 bankruptcy protection as it enters the final stretch of building the $9 billion CityCenter. Major loans are coming due over the next two years even as the company is on the hunt for another $1.2 billion to finance completion of the project.
MGM Mirage spokesman Alan Feldman declined to comment on bankruptcy concerns or to elaborate beyond the company's announcement Friday.
Analysts say there is a slim chance that, because of dwindling cash, MGM Mirage will have to delay completion of CityCenter.
One well-placed source said that was one of many possibilities being considered by the company until banks free up money.
But Feldman said that with the exception of the Harmon hotel, which is expected to open in 2010, MGM Mirage "continues to work on CityCenter" for a late 2009 opening. Dubai World remains a committed partner, he added..."
MGM MIRAGE
3600 Las Vegas Boulevard South
Las Vegas, NV 89109
Phone: (702) 693-7120
Fax: (702) 693-8626
Website: www.mgm-mirage.com

MGM MIRAGE is one of the world's leading gaming companies. It owns and operates 24 properties located in Nevada, Mississippi and Michigan, and has investments in four other properties in Nevada, New Jersey, Illinois and the United Kingdom. MGM MIRAGE has also announced plans to develop Project CityCenter, a multi-billion dollar mixed-use urban development project in the heart of Las Vegas, and has a 50 percent interest in MGM Grand Macau.