by Howard Stutz
Las Vegas Gaming Wire
LAS VEGAS, Nevada -- A day after reports that Los Angeles-based Colony Capital might be the financial savior of the $8.7 billion CityCenter development, the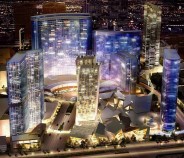 MGM MIRAGE CityCenter project's partners remained relatively quiet.
Investors and Wall Street, however, answered loudly.
Shares of MGM Mirage jumped Thursday to one of the company's largest one-day gains in recent months on the New York Stock Exchange.
One analyst said Colony Capital, a 75.9 percent equity owner of Station Casinos, could supplant or slice into the 50 percent stake of CityCenter controlled by Dubai World.
Los Angeles-based Colony Capital, a real estate investment firm that also owns the Las Vegas Hilton and has other casino industry investments, is reportedly talking with MGM Mirage and Dubai World about taking a stake in CityCenter, according to The Wall Street Journal. The newspaper's source also suggested that Colony could be acting as a broker trying to repair the fractured relationship between MGM Mirage and Dubai World.
A spokeswoman for Colony Capital said the company wouldn't comment on the report.
Shares of MGM Mirage opened more than 26 percent higher Thursday on the news. The company's stock price, down more than 95 percent in the past year, closed at $3.14, up 51 cents, or 19.39 percent. More than 26.1 million shares were traded during the session, almost five times the average daily volume.
MGM Mirage and Dubai World, 50-50 partners in CityCenter since August 2007, are feuding over the development's direction. Dubai World, the investment arm of the Persian Gulf emirate, sued MGM Mirage on March 22, questioning the project's viability and saying MGM Mirage had mismanaged the venture leading to cost overruns.
MGM Mirage last week made a $200 million equity payment on CityCenter, which included $100 million that was owed by Dubai World. Another payment is due April 13, and it is unclear whether MGM Mirage will have help from its reluctant joint-venture partner or will have to fund the project on its own.
CityCenter could be forced into a bankruptcy reorganization if the payment is not made, shutting down construction on the site.
Deutsche Bank gaming analyst Bill Lerner speculated that MGM Mirage knew of Colony Capital's interest, and possibly interest by other potential investors, when the company made the payment. He said Thursday that the private equity group could eliminate Dubai World from the mix.
"We believe Colony is pursuing a stake in CityCenter that partially or fully removes Dubai World from the joint venture but leaves MGM Mirage's 50 percent stake intact," Lerner said.
An adviser to Dubai World confirmed the company is talking with possible investors.
"Talks are being held with a number of potential investors in a cooperative fashion, but so far, none are particularly close to a resolution," the adviser said.
MGM Mirage needed permission from its senior lenders to make last week's payment or else CityCenter would have been pushed into a bankruptcy filing.
A company spokesman said MGM Mirage would make the next payment, too, but needs approval once again from its senior lenders.
MGM MIRAGE
3600 Las Vegas Boulevard South
Las Vegas, NV 89109
Phone: (702) 693-7120
Fax: (702) 693-8626
Website: www.mgm-mirage.com

MGM MIRAGE is one of the world's leading gaming companies. It owns and operates 24 properties located in Nevada, Mississippi and Michigan, and has investments in four other properties in Nevada, New Jersey, Illinois and the United Kingdom. MGM MIRAGE has also announced plans to develop Project CityCenter, a multi-billion dollar mixed-use urban development project in the heart of Las Vegas, and has a 50 percent interest in MGM Grand Macau.