by Howard Stutz
Las Vegas Gaming Wire
LAS VEGAS, Nevada -- Survival of the $9.1 billion CityCenter development was questioned Monday when the investment arm of the Persian Gulf state of Dubai sued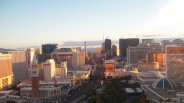 its partner, MGM Mirage, over concerns with the project's viability.
Several analysts said the lawsuit, filed Sunday in Delaware Chancery Court, not only damages the 76-acre Strip development in the eyes of investors but sends negative signals on the financial health of MGM Mirage. The casino giant operates nine Strip resorts, including MGM Grand, Bellagio, The Mirage and Mandalay Bay, and employs more than 61,000 workers.
"The recent litigation will continue to cast a cloud not only over MGM as a going entity, but completion of CityCenter," Macquarie Securities gaming analyst Joel Simkins told investors Monday. "(Dubai World) is significantly concerned about the company's survival among other assertions."
According to the lawsuit, Dubai World, a 50-50 joint venture partner in CityCenter, is seeking unspecified damages and wants to be relieved of its obligations under the companies' agreement, which was struck in August 2007.
Dubai World said MGM Mirage, which is CityCenter's managing partner, was responsible for mismanagement and cost overruns with the project. When the joint venture was announced, CityCenter had a budget of almost $7.5 billion, according to the lawsuit.
Dubai World, which is financing its portion of CityCenter through its Infinity World subsidiary, contends that statements by MGM Mirage in the company's financial filings last week with the Securities and Exchange Commission constitute a breach of the joint-venture pact and has put the project at risk.
George Dalton, the group general counsel for Dubai World, told reporters on a conference call in Dubai that the lawsuit was "a very regrettable step." He said the state-owned company "actually had no choice. What we are attempting to do is complete this project."
The lawsuit seemingly took MGM Mirage by surprise. After saying the company would release a statement after the stock markets closed at 1 p.m. PDT, a spokesman called late in the afternoon to say there would be no comment on the lawsuit Monday.
During the company's fourth-quarter earnings conference call last week, MGM Mirage Chairman and CEO Jim Murren called the relationship with Dubai World "outstanding" and said the companies had been "steadfast partners." MGM Mirage and Dubai World still are seeking the remaining $1.2 billion in financing needed to finish the project.
Murren said Dubai World officials recently visited Las Vegas and the CityCenter development.
"They left with great awe and pride in CityCenter," Murren said. "And they realize, as do we, that this is a tough time that we're all in ... and they have been great to work with and I'm very proud of the relationship that we have with them, and I'm glad that we have them."
In November, Nevada gaming regulators gave Dubai World approval to increase its ownership stake in MGM Mirage to 20 percent. Dubai World had filed a licensing application with state gaming authorities so the entity could share in gaming revenues produced at CityCenter.
Gaming Control Board Chairman Dennis Neilander said he was notified by a letter Monday morning from Dubai World about the lawsuit. He said the matter does not appear to raise any regulatory concerns.
"The legal issues stem around the joint venture, so we're just monitoring the litigation," Neilander said.
Some analysts have questioned the profit-making potential of CityCenter, which is opening at a time when the U.S. economy is under severe strain.
"We believe that the completion of CityCenter, one of the world's largest and most expensive buildings, is coming on stream at precisely the wrong time for MGM Mirage," Citi analyst Anil Daswani said in a research note.
CityCenter includes six high-rise towers with a casino, boutique hotels, condominiums, entertainment and a retail mall. MGM Mirage has touted the project as the most expensive private commercial development in U.S. history.
MGM Mirage said last month that CityCenter would open in stages, starting in October with Vdara, a nongaming condominium and hotel tower. Aria, CityCenter's centerpiece 4,004-room hotel-casino, is scheduled to open Dec. 16. The company plans to hire more than 10,000 employees at CityCenter and has accepted some 90,000 applications.
The lawsuit contributed to a move by Fitch Ratings to downgrade MGM Mirage's credit ratings. The service said it was worried the Strip casino giant will not be able to pay back some of its debt.
Fitch wrote in a statement that "default of some kind, including a potential Coercive Debt Exchange, appears imminent or inevitable."
The ratings agency said it thinks that other casino operators might be interested in acquiring some of MGM Mirage's Strip assets but that MGM Mirage might not be able to get a good price given the state of the economy. Last week, the company completed a $775 million sale of Treasure Island.
In the lawsuit, Dubai World said MGM Mirage had anticipated a financing package of $5 billion, which was revised to $3 billion. The company has raised $1.8 billion. Dubai World said its subsidiary has made capital contributions of approximately $4.3 billion to CityCenter and is committed to another $1.1 billion.
"Considering the decrease in scope of certain aspects of the project, (Dubai World) is being asked to pay significantly more for a project that is considerably less than it bargained for," according to the lawsuit.
In 2007, Dubai World spent almost $6 billion for a 50 percent stake in CityCenter and 9.5 percent of MGM Mirage's outstanding shares. Dubai World paid $80 a share for its interest in MGM Mirage, but the company's stock price has fallen dramatically.
The lawsuit sent shares of MGM Mirage on a roller coaster ride Monday. The company's stock was trading up on the New York Stock Exchange until news of the lawsuit crossed the wire, sending the price tumbling. MGM Mirage closed up 6 cents, 1.97 percent, to finish at $3.11.
Asked whether Dubai was effectively seeking to end its joint venture with MGM Mirage, Dalton said: "It's difficult to say at this point."
"We're not saying MGM won't be involved," Dalton said. "We're anxious to work with them, but we need to see them come out of their financial problems."
Dalton cited concerns about a statement in MGM Mirage's recent annual report warning of a possible default on CityCenter that could force it or the project to seek bankruptcy court protection.
He also questioned the two-month waiver MGM Mirage received from its lenders last week to avoid violating its loan covenants. Analysts think MGM Mirage might have to file Chapter 11 bankruptcy to restructure $13.5 billion in debt. In an Securities and Exchange Commission filing, MGM Mirage said there is "no certainty" the casino operator can continue to operate that long.
"Our concern is for the long-term health of the project," Dalton said. "We want to see some certainty (from MGM) before we continue with our obligations."
MGM MIRAGE
3600 Las Vegas Boulevard South
Las Vegas, NV 89109
Phone: (702) 693-7120
Fax: (702) 693-8626
Website: www.mgm-mirage.com

MGM MIRAGE is one of the world's leading gaming companies. It owns and operates 24 properties located in Nevada, Mississippi and Michigan, and has investments in four other properties in Nevada, New Jersey, Illinois and the United Kingdom. MGM MIRAGE has also announced plans to develop Project CityCenter, a multi-billion dollar mixed-use urban development project in the heart of Las Vegas, and has a 50 percent interest in MGM Grand Macau.