LAS VEGAS, NV - This October, MGM MIRAGE will introduce its newest luxury boutique hotel on the world-famous Strip: Vdara Hotel. Vdara is now accepting reservations for Oct. 1, 2009 and beyond.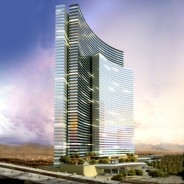 Artist's rendering of the Vdara hotel at MGM Mirage's CityCenter Vdara is located at CityCenter, a dazzling vertical city that will transform the Las Vegas Strip when it opens late this year. Vdara's opening will deliver the first glimpse into this magnificent urban metropolis. Nightly rates will range from $159 to $2,000. Reservations will be available via www.Vdara.com or 866-745-7767.
Vdara is an all-suite hotel and spa designed for those who love the excitement of Las Vegas but prefer to enjoy it in an exclusive, non-gaming, smoke-free environment. Designed by RV Architecture, LLC, led by Rafael Viñoly, Vdara's distinctive crescent shape and unique skin of patterned glass will create one of the most striking design statements in the city. Physically connected to Bellagio and directly adjacent to ARIA Resort & Casino, Vdara will offer access to all of the entertainment, gaming, shopping, dining and nightlife at CityCenter and in Las Vegas, while also providing a retreat from it all.
Vdara's customized amenities and services will cater to a discerning clientele who desire exceptional experiences. Guests will enjoy a luxurious wellness spa and salon, state-of-the-art fitness center, a hip and vibrant pool and lounge perched high above The Strip, globally inspired cuisine by an award-winning chef, premium conference and meeting facilities and more. Vdara will foster warmth, intimacy and a sense of familiar pleasures.
Located between Bellagio and Monte Carlo resorts, CityCenter will become the cultural centerpiece of Las Vegas. An architectural achievement that integrates the talents of world-renowned artists, architects and designers, CityCenter will attract visitors from around the world as a landmark of global taste and style. In addition to Vdara, CityCenter will feature ARIA, a spectacular 4,000-room gaming resort; two luxurious non-gaming hotels including Las Vegas' first Mandarin Oriental and The Harmon (slated to open at CityCenter in late 2010); Veer Towers, the development's only strictly residential buildings; Crystals, a 500,000-square-foot retail and entertainment district; a $40 million public Fine Art Program; and approximately 2,400 residences. CityCenter is a joint venture between MGM MIRAGE and Infinity World Development Corp, a subsidiary of Dubai World.
A GLIMPSE INTO VDARA
Accommodations Soaring 57 stories, Vdara will host 1,495 suites including 250 corner-view units, ranging from approximately 500 to 1,650 square feet. Characterized by open floor plans and horizontal windows, the rooms will deliver expansive views of the city and mountains creating a relaxed and harmonious environment infused with an urban rhythm. Each will feature a gourmet kitchen as an added convenience.
Amenities
Vdara will boast amenities commensurate with the world's most elite resorts. From early morning to late evening, Vdara Health & Beauty, a 16,000-square-foot, two-level spa, salon and advanced fitness facility, will soothe and rejuvenate its guests. Designed by Robert D. Henry Architects*, the spa will be comprised of 11 treatment rooms and three distinct relaxation lounges, and will offer a selection of signature treatments and products from around the world. Men's and women's lounges each will boast sauna, steam, hot plunges and heated chaise loungers. The spa also will feature an innovative champagne and smoothie bar that serves vegetarian and vegan-inspired meals for breakfast, lunch and dinner. In the salon, guests can enjoy professional hair design, indulgent manicures and pedicures, and make-up artistry. Health & Beauty's retail area will offer an exclusive selection of skincare and bath and body products, candles, books, edibles, apparel and other spa lifestyle items. The fully equipped fitness facility will offer personal trainers, and group or private classes.
Martin Heierling, the internationally acclaimed innovator behind Bellagio's AAA Four Diamond restaurant Sensi, will serve as executive chef for all of Vdara's food and beverage offerings. Silk Road, a modern trans-ethnic restaurant, will transform as the day evolves, from fresh and vibrant at daybreak to hip and sexy at nightfall. Bar Vdara, an eclectic lobby lounge, will be a setting inspired by nature that works as well for a morning espresso as it does for a late-night cocktail.
Bar Vdara will connect to an intimate outdoor space that creates the feeling of being in a secluded garden oasis where guests can lounge on spacious swings as the nearby reflecting pool casts twinkling stars overhead.
Rising above Harmon Circle, Vdara's luxurious Sky Pool & Lounge will invite guests to relax and socialize in an interactive environment surrounded by cutting-edge design. The Sky Pool & Lounge will feature fully appointed retreat and spa cabanas with semi-secluded plunge pools, and a high-energy bar and lounge open day and evening. The Gourmet Grocer will offer a variety of produce and gourmet foods and be the ideal spot to grab a quick sandwich, fresh salad, pasta or delicious chocolate made daily with the finest local and organic ingredients. Vdara also will feature 24-hour in-suite dining, housekeeping, valet parking and more.
Meetings & Convention Facilities
Vdara's conference space will welcome guests to a world of sophistication as rich in design as it is in technological and culinary offerings. Vdara will be the premier choice in Las Vegas for intricately customized executive meetings, corporate, social and banquet functions for up to 400 guests in an upscale boutique hotel setting.
With more than 10,000 square feet of adaptive ground-level conference space ranging from a contemporarily styled ballroom to a 14-person executive boardroom, Vdara will extend the unparalleled offerings and professional service for which MGM MIRAGE is renowned worldwide. Easily accessible from Vdara's main entrance, the refined meeting spaces will boast state-of-the-art technology offerings and the flexibility to accommodate the needs of any function. Vdara's meeting space will include a spacious 4,000-square-foot ballroom, three intimate meeting spaces, an executive boardroom and a pre-function area. Vdara's beautiful pool also will be available for private events and provide the dynamic backdrop of CityCenter and the Las Vegas Strip.
Vdara's business center will provide attendees the convenience to conduct business efficiently only steps from their meeting or suite. Offerings will include overnight courier services, communication equipment rentals, copying assistance, private mini-suite rentals, wireless Internet cards, complimentary notary services, e-mail service, Internet access, fax service, and more.
Crystals
Designed by Studio Daniel Libeskind, Crystals, CityCenter's retail and entertainment district, will combine dramatic architecture with exclusive offerings from the world's most elite brands to become a preeminent shopping destination. Renowned retailers Louis Vuitton, TIFFANY & CO., de Grisogono, H. Stern and Ermenegildo Zegna will be among the exceptional brands presented under Crystal's multi-faceted canopy of unprecedented brilliance. Crystals will boast two dynamic new dining concepts from internationally renowned master chef Wolfgang Puck as well as the excitement of Innovative Dining Group's gourmet Robatayaki and sushi bar Katana. For the interior architecture, David Rockwell and Rockwell Group will create an experiential environment within the retail district complementing the overall city scene. Many more luxury brands and dining concepts will be announced at a later date.
Fine Art
CityCenter's $40 million public Fine Art Program will feature works by acclaimed artists including Maya Lin, Jenny Holzer, Nancy Rubins, Claes Oldenburg and Coosje van Bruggen, Frank Stella, Henry Moore, Richard Long, François-Xavier Lalanne and Isa Genzken, among others. The collection will encompass a multitude of styles and media ranging from sculptures and paintings to large-scale installations. Some will be existing pieces, carefully chosen for their artistic value and cultural significance; others will be site-specific installations for which the artist has been invited to command their vision over the space.
For Vdara's exterior, Nancy Rubins will create one of the most visually stunning commissions at CityCenter with a larger scale version of her famous installation: Big Pleasure Point. Measuring approximately 50 feet tall and 80 feet long, Rubins' work of art will be a colorful composition of numerous rowboats, kayaks, canoes, small sailboats, surfboards, wind-surf boards, jet skis, paddle boats, catamarans and other small river and ocean vessels that are finessed into a gravity-defying form. It will be one of Rubins' few works with a permanent home. For Vdara's reception desk, CityCenter has purchased one of artist Frank Stella's most prominent works. Damascus Gate Variation I, created in 1969, features a design of interlaced semicircles made of fluorescent alkyd resin on a 96 x 384-inch shaped canvas.
MGM MIRAGE
3600 Las Vegas Boulevard South
Las Vegas, NV 89109
Phone: (702) 693-7120
Fax: (702) 693-8626
Website: www.mgm-mirage.com

MGM MIRAGE is one of the world's leading gaming companies. It owns and operates 24 properties located in Nevada, Mississippi and Michigan, and has investments in four other properties in Nevada, New Jersey, Illinois and the United Kingdom. MGM MIRAGE has also announced plans to develop Project CityCenter, a multi-billion dollar mixed-use urban development project in the heart of Las Vegas, and has a 50 percent interest in MGM Grand Macau.