Smarter Bet Guide to Craps
by Basil Nestor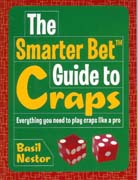 Some craps bets are good, some are not-so-good, and some are for suckers. The Smarter Bet Guide to Craps separates the best from the rest, and makes craps easy to learn. Everything is here in a clear-cut format: Table layout, dice-shooting techniques, a detailed analysis of every craps bet, and mathematically proven strategies that help lower the casino's advantage. A good basic guide to the game for players who are just starting out.
Play Craps at Club USA Casino!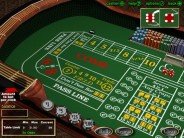 You may not be able to finesse your toss, but you can play dice at Club USA Casino. The site features a realistic table, plenty of betting options and good pass line odds.
Q Has the concept of pot odds in poker ever been applied to the game of craps. If yes, how does it work?
A For every craps bet, there are only two opponents, a player and the casino. After a craps

Basil Nestor is the author of the new Playboy Complete Guide to Casino Gambling. This wonderful book teaches players how to avoid sucker bets and win more when playing gambling games. He is also the author of The Smarter Bet Guide series for video poker, slots, craps, and many other books about gambling. Basil's website is www.smarterbet.com
bet is offered and accepted, no additional money is required from either opponent before the final decision. So every bet constitutes a complete "pot."
Unfortunately, by poker standards, every craps pot is too small to justify a "call." A player never has an advantage, so he should "fold" every hand and never make a bet.
Sounds grim, huh? Take heart. Everything changes when you're setting dice. A player who sets dice can alter the probability of rolling particular numbers and make some craps bets worth the risk. For more on setting dice, check out ReadyBetGo's dice setting section or Chapter 7 of The Smarter Bet Guide to Craps.
Is there any strategic reason to play craps if you're not setting dice? Absolutely, yes. If you play the game properly, it costs almost nothing, and it's fun. That is a positive return right there. Sometimes the value in a game is in the pleasure of the experience, and not only in the pot. Think of all the things you do in life just to have fun.
And if you're setting dice, then the casino is paying you to have fun.