The Everything Craps Strategy Book
by Larry Edell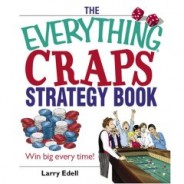 Larry Edell's Everything Craps Strategy Book is full of information for the aspiring craps player or for someone who wants to hone their craps skills. The book includes basic odds and theory overview, don't pass and don't come strategies, a discussion of betting systems, prop bet systems, and much more. Also included are sections on dice control techniques, craps tournaments, and an in-depth look at how to get complimentaries while playing craps.

Sharpshooter Craps
The official site for Jerry Patterson and the Sharpshooter's Dice Control courses. Since 1996, Sharpshooter and Patterson have been perfecting their techniques and they provide details of what's involved. The site provides craps strategy, a free newsletter, a bookstore and practice tables.
Jerry Patterson and Sharpshooter announce a unique learning resource: Practical Dice Control Tips and Instruction are featured on the totally redesigned Sharpshootercraps.com website:

Dice Control Learning Aids that you can practice right now and/or use in your next casino session to control the dice.
Both dice control newcomers and experienced precision dice shooters will benefit from this innovative information.
Plus: The Powerful Shooter Selection SecretTM can be used in your next casino trip to find and score on other shooters who really control the dice.
Some of the Dice Control Learning Aids you will find at Sharpshootercraps.com are:
How to launch the dice at the correct height above the table to achieve a soft landing;
How to keep the dice on axis in their orbit;
How to go to The Zone to achieve a consistent throw;
A Review of the standard dice sets and grips including the Sharpshooter-preferred Three-Finger Front.
Visit
www.sharpshootercraps.com
for more information.