More Frugal Gambling
by Jean Scott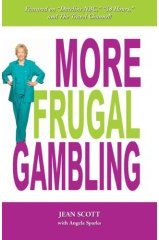 More Frugal Gambling is Jean Scott's long-awaited sequel. In the inimitable warm and reassuring style of the 'gambling grandma,' Scott reveals a further five years' worth of casino experience and exploits. More Frugal Gambling includes extensive coverage of slots, video poker, slot clubs, casino promotions, and couponing, as well as practical advice on keeping money safe, gambling and taxes, and casino security. Scott continues to be a media staple, appearing regularly on the Travel Channel.
Online Comps Can't be Beat!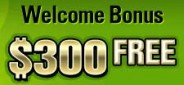 Did you know that some of the best comps in the world of gambling come from online casinos? Check out Casino Topez' exciting $300 free just for signing up and making a deposit! This is an excellent comp. Give it a try!
It has been said that once a teacher, always a teacher. When I retired from the high school English classroom after 25 years, I could not stop teaching. I just switched my subject material

Jean Scott is known as the "Queen of Comps" and encourages smarter casino gambling. She appears on network and cable TV, especially on the Travel Channel. Her down-to-earth practical suggestions will save you both time and money in your quest to make your trip to the casino more fun and more profitable. Jean's website is www.queenofcomps.com and started to expound to anyone who would listen about how to be a smarter gambler. So today our casino "lesson" is a vocabulary study that will teach you some basics of how to get more from a casino - whether you are winning or losing on your machine.
COMPS –short for complimentaries. It means the things the casino gives you without charge just because you are playing in their casino, anything from the drinks that even the penny betters can order to the penthouse suites for the high rollers. I call these the casino extras because you get them simply by playing – you don't have to be losing money to earn them.. Besides the usual comps for meals, rooms, and shows, Brad and I have been comped for haircuts, massages, airfare, limo rides, parties, phone calls, and invitational tournaments. The 21 years we have been going to casinos have seen us flooded with gifts: so much logo wear it would fill a large closet, lavish food baskets and fine bottles of spirits, expensive jewelry and electronics, and enough toys for our grandchildren that they think Santa lives in a casino.
RECOGNITION - you cannot get anything from a casino if they do not know you are playing there. How do you get their attention? One all-important basic requisite: join the slot club. Then every time you put your player's card in the machine while you play, the casino knows you are giving them your valuable business and they have already put it into their budget to reward you.
LITERATURE - no, not Shakespeare – I mean the printed material that you will usually find at the slot club desk. Read carefully for specific details on whether the club gives back cash or comps or both. Brochures may tell you exactly how the slot club works, giving a list of the things you can earn as you play and how many points each requires.
INFORMATION – the more you know about the casino's player reward system the more you can get out of it. Although some casinos spell out in black and white their criteria for giving out their valuable booty, the great majority does not. The clerks at the slot club desk can often answer many of your questions that the literature does not address. If you take your points in cash, can you still get meal comps? How many points does it take to get a free buffet? A free room?
ATTITUDE – but not the current use of the word. You should use something I call the "honey/vinegar" factor. A pleasant, polite, undemanding tone will yield more comps from a host than a gruff I-deserve-this requisition. Moreover, gracious acceptance of anything that is given will pay rich rewards in future gifts. Word your request as a question that will elicit information as well as avoid awkward-for-both-of-you negative answers. "How long do you have to play to qualify for a comp to the coffee shop?" instead of "Can I have a meal comp?"
CONCENTRATION - putting all your eggs in one basket is good advice here. I have friends who jump from casino to casino, trying to find out where they are "lucky." However, this method will keep you from earning as many comps as you would if you would choose one casino for the majority of your play. All casinos have tiered comp levels with a minimum of play required for the comp system to kick in. I suggest you play in one casino until you reach this basic activation level for meal comps. In addition, if you want to start earning free room comps, you will need to continue to play at this casino until you reach this higher comp level. Only then would you want to pick up another casino and start working your way up their comp ladder.