Tax Help for Gamblers
by Jean Scott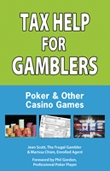 Tax Help for Gamblers deals with the innumerable nuances and gray areas of gambling and taxes. It covers all the whys and wherefores of this complex subject, including tax-code specifics, record-keeping, filing your tax return, state-tax considerations, and audits and other tax problems. Numerous charts and forms help you see the practical application of the information. This book is for recreational and professional gamblers, including low and high rollers, table-game and machine players, video poker and live poker players, online enthusiasts, international and cruise ship players, and people who live or gamble in states with income taxes.

Frugal Video Poker Scouting Guide
by Jean Scott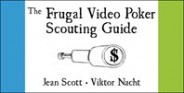 The Frugal Video Poker Scouting Guide is a handy reference tool designed to make finding profitable video poker games in any casino easy for everyone from the beginner to the expert video poker player. It contains nearly 200 pay schedules for 37 of the most popular video poker games and details the return for each schedule, approximate royal progressive break-even points, a measure of the game's volatility, and much more. Just 3.5 inches tall and 7 inches long, it is made of durable paper and is spiral bound so that it can be opened to any page and folded over while scouting for a particular game. Easy to use and easy to carry, there is nothing like this available on the market, but anyone who plays video poker for fun or profit should have one.

Frugal Video Poker
by Jean Scott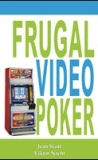 Jean Scott, the undisputed Queen of Comps, is now the Queen of Video Poker with the release of her latest Frugal gambling book, Frugal Video Poker. The book will help beginners and experts alike with its common sense approach backed up with rigorous statistics. For a great video poker read, pick up a copy of Frugal Video Poker.
About Jean Scott

Jean Scott is the author of the best-selling book "The Frugal Gambler," a casino guide for thrifty low rollers, plus a sequel, "More Frugal Gambling." She has just brought out "Frugal Video Poker," a thorough guide to help gamblers learn to win at video poker. She stresses sensible, responsible gambling and shows how to stretch out casino fun time whatever your gambling bankroll. Her exploits have been featured on Dateline, Hard Copy, Extra, To Tell the Truth, and 48 Hours, where Dan Rather dubbed her the Queen of Comps. She appears frequently on Travel Channel shows on Vegas and gambling.

Retired from the high school English classroom, her passion is still education while she continues as an active player in casinos all over the country. She is a popular speaker and writer on gaming subjects. Today, Jean Scott, who, in her words, is just an "ordinary grandmother," is the world's most famous low-rolling gambler and her fans are legion.
Jean's website is www.queenofcomps.com
Latest Jean Scott Articles
Where Do I Find a Casino Host?
For the dollar machine player, and in many casinos even for the frequent and/or heavy quarter player, using a casino host system will let them reap more comps than just tapping into slot club benefits or depending on mail offers. However, I have had more people tell me that they have played in casinos for years, have never seen a host, and wouldn't know if they fell over one in the aisle!
Jean Scott Answers Readers' Questions
Since The Frugal Gambler was published, I've met hundreds of people who've read the book and who still have hundreds of questions about low rolling, comps, slot clubs, promotions, getting bumped off airplanes, and, of course, Brad's and my experiences in a casino. Here are a few of your most common questions, along with my typical replies.
When to Walk Away from a Slot Machine
"How do I know when I should quit playing a particular machine?" This is probably the most frequent question Jean Scott is asked. Although it's a basic query, the answer is not so straightforward.
Tipping in Casinos
Everyone has a personal opinion about tipping and there is no right or wrong. Tipping in a casino is more complicated and unfamiliar than in restaurants, valet parking, and taxis. Here are Jean Scott's words of advice.
A Vocabulary Lesson on Comps
In this article, Jean Scott, the Queen of Comps, gives us a short lesson on the building blocks to getting more complimentaries (comps) at the casinos.