More Book Reviews
Best Selling Poker Books of 2014
How did the new books compare to the old classics? Well, we will let the data speak for itself. Take a look at the list of the best selling poker books of 2014.
Deal Me In and Eat Professional Poker Players Alive Reviewed
There isn't a clear path by which people become professional poker players. There aren't any good courses at the local vo-tech for a person to study. The road to becoming a poker pro is inevitably difficult, circuitous, and filled with setbacks. Deal Me In is a book describing the course by which twenty top poker players became professionals.
Poker Winners Are Different
There is a big difference between what's typical human behavior and what is called for to play poker at a high level. There aren't a lot of people for whom maximizing their expectation in poker games comes naturally. Poker Winners Are Different by Alan Schoonmaker examines this conundrum.

Frugal Video Poker Scouting Guide
by Jean Scott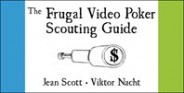 The Frugal Video Poker Scouting Guide is a handy reference tool designed to make finding profitable video poker games in any casino easy for everyone from the beginner to the expert video poker player. It contains nearly 200 pay schedules for 37 of the most popular video poker games and details the return for each schedule, approximate royal progressive break-even points, a measure of the game's volatility, and much more. Just 3.5 inches tall and 7 inches long, it is made of durable paper and is spiral bound so that it can be opened to any page and folded over while scouting for a particular game. Easy to use and easy to carry, there is nothing like this available on the market, but anyone who plays video poker for fun or profit should have one.

Your Worst Poker Enemy -- Master The Mental Game
by Alan Schoonmaker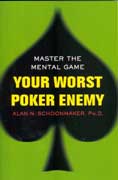 In Your Worst Poker Enemy, psychologist Dr. Alan Schoonmaker shows you how to reap the full benefits of the poker knowledge you already have by helping you to identify and stop psychologically based mistakes. This must-have book also features detailed sections that examine crucial points far beyond the scope of most other poker strategy guides, including: Using Intuition vs. Logic; Evaluating Yourself and the Opposition; Understanding Unconscious and Emotional Factors.
Two hotsy-totsy titles of interest to poker and video poker aficionados have arrived at Gambler's Book Shop. Alan Schoonmaker's Your Worst Poker Enemy -- Master The Mental Game

Howard Schwartz, the "librarian for gamblers," is the marketing director for Gambler's Book Club in Las Vegas, a position he has held since 1979. Author of hundreds of articles on gambling, his weekly book reviews appear in numerous publications throughout the gaming industry. Howard's website is www.gamblersbook.com (336 pages, paperbound, $15.95) and The Frugal Video Poker Scouting Guide by Jean Scott and Viktor Nacht (34 pages, 3x7, pocket-sized, spiralbound, $19.99).
Schoonmaker, who previously authored the well-received Psychology of Poker, continues to help poker players analyze themselves and opponents. In his latest work he examines and dissects subjects like logic versus intuition; evaluating ourselves and the opposition; understanding unconscious and emotional forces ; adjusting to changes; handling stress.One section in the book that's sure to raise the hackles on the necks of female players involves why men tend to dominate tournaments.
"I therefore believe that more women avoid the poker tournament circuit for competitive than for lifestyle reasons. To put it bluntly, they don't think they can win, and they're probably right."
Overall, Schoonmaker does a fine job of analyzing the strengths and weaknesses that we all carry to and from the table. He also excels in explaining why some players learn from their mistakes, who some candy-coat them and refuse to admit they exist and why others, like generals in battle, learn and build on past errors to become better players in the long run.
-----------------------

The Scott-Nacht book is easy to carry with you to video poker machines. The authors try to guide you to what the casinos already know: Which games are better for the player and which are not; which are the better paying machines and the common variations.
There are more than 175 pay schedules for three dozen different games listed, including the most popular pay schedules nationally—so if you're in Atlantic City or Mississippi, the book will work for you.
Also, the book includes a "volatility rating"—an approximate measure of the kinds of fluctuations you might face while playing; and there's also an "approximate royal progressive break-even point" for dollar and quarter action.
There's a handy index for games, from Aces and Eights to White Hot Aces, in alpha order. Also included are games like Double Bonus Poker; Double Deuces; Double Double Bonus Poker; Loose Deuces; Super Aces Bonus Poker; Super Bonus Deuces Wild; Triple Bonus Poker; Triple Pay Deuces.