Smarter Bet Guide to Blackjack
by Basil Nestor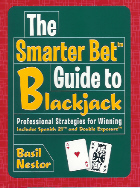 Strategy is the key to success at the blackjack table; that's a mathematical fact, and you can count on these expert, easy-to-learn tactics to make you a victor. Here's the deal: everything begins with the basic rules, and they're laid out on these pages with smart little "factoid" tips. Go through blackjack economics, which explain why cards fall the way they do, and what makes a good (and a sucker) bet. Easy-to-follow tables suggest strategies for splitting pairs and soft hands and provide dozens of other statistics and card probabilities.

Blackjack at Casino-on-Net
Casino-on-Net takes a progressive approach to blackjack players by featuring a thorough rule and strategy section on the site. The blackjack help area even has a blackjack basic strategy card.
Q When I play
blackjack
for $10 or $15 per hand, I always
double down
and
split
as you recommend. But comps are nearly zero at the $15 level. So lately I've been betting $25 per hand. The

Basil Nestor is the author of the new Playboy Complete Guide to Casino Gambling. This wonderful book teaches players how to avoid sucker bets and win more when playing gambling games. He is also the author of The Smarter Bet Guide series for video poker, slots, craps, and many other books about gambling. Basil's website is www.smarterbet.com
problem is that doubling and splitting can get expensive when I'm risking green chips. So I tend to play conservatively, and I only hit or stand. Overall, I'm betting about the same amount of money, but getting a better comp rating. It seems to work. Your thoughts?
A You've been lucky. Congratulations. Nevertheless, it is always better to follow
basic strategy
rather than playing on-the-fly hunches, no matter how conservative the variances may seem to be. When you deviate from basic strategy, it will eventually cost you money.
Keep in mind that doubling situations (11 vs. a dealer's 5, 10 vs. a dealer's 6, and so forth) are positive-expectation wagers. You could earn a living making those bets if
blackjack rules
allowed you to bet them exclusively. Ditto for most splitting situations. Unfortunately, casinos require you to bet first and then take whatever cards that come, including stiff hands. This gives the house an edge, but it's usually less than 1% when you use basic strategy. The house edge balloons to nearly 3% if you don't double down and split when you should.
Let's say you play blackjack for four hours (about 240 hands). The cost of following basic strategy at $15 per hand will be about $18 on average. Just a little luck can tip you into the plus column. But if you deviate from basic strategy at $25 per hand (hitting instead of doubling or splitting), your average loss will be $180. You'll need much more luck to finish with a net win.
So whatever comps you get at the higher-limit table should be worth at least an extra $162 (180 - 18 = 162), or about $40 per hour. Keep in mind that comps at a rate of $40 per hour normally would go to a player who is betting about $125 per hand. If you're ever comped $40 per hour for $25-per-hand action, please drop me a line and tell me where.
In any case, the $15 table is the better value. Stick with basic strategy and don't chase the comps.