Smarter Bet Guide to Blackjack
by Basil Nestor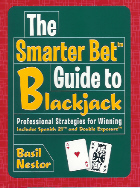 Strategy is the key to success at the blackjack table; that's a mathematical fact, and you can count on these expert, easy-to-learn tactics to make you a victor. Here's the deal: everything begins with the basic rules, and they're laid out on these pages with smart little "factoid" tips. Go through blackjack economics, which explain why cards fall the way they do, and what makes a good (and a sucker) bet. Easy-to-follow tables suggest strategies for splitting pairs and soft hands and provide dozens of other statistics and card probabilities.
A
toke
is a tip in casino-industry parlance. You might be surprised to know that casino dealers typically earn half or more of their money from tokes. For example, dealers at MGM Grand in Las Vegas

Basil Nestor is the author of the new Playboy Complete Guide to Casino Gambling. This wonderful book teaches players how to avoid sucker bets and win more when playing gambling games. He is also the author of The Smarter Bet Guide series for video poker, slots, craps, and many other books about gambling. Basil's website is www.smarterbet.com
had a total average income of $63,728 and a base pay of $5.35 per hour in 2000. The difference was tokes. And remember, MGM is the largest hotel property in North America (5,005 rooms). Dealers at smaller casinos earn much less, and they depend heavily on the kindness of their customers.
Nobody expects a toke when you're losing, and you should definitely not toke if a game is poorly dealt, but if you're having a winning session and the dealers are making it fun then it's always nice to give something. There are a couple of ways to toke. You can put chips out on the felt and simply say, "This is for you." Another way is to bet something for the dealer. Put some extra chips next to your bet just outside the circle, and ask her if she'd like the toke straight or if she'd like to see it played. Most dealers will want the extra action.
Of course, it's a drag when a toke bet loses, so I recommend yet another option that gives you more control. Increase your standard bet by one-half of the intended toke amount, and then simply toke when a hand wins.
Many casinos require dealers to pool and share their tips so that dealers at lower-limit tables won't earn less per shift than their higher-limit counterparts. Keep that in mind if you're tempted to over-tip. Tokes of $1 to $5 per hour are customary for a player betting $10 to $50 per hand.
The preceding material is just a sample of what you'll find in Basil Nestor's Smarter Bet Guide to Blackjack.