The Unofficial Guide to Casino Gambling
by Basil Nestor

Basil Nestor incorporates decades of gambling knowledge to give the reader insight into probability, common gambling mistakes, and winning strategies in his popular book, The Unofficial Guide to Casino Gambling. Covering all the bases of casino gambling including machine games (slots and video poker), table games (blackjack, roulette, craps, baccarat, poker), and waiting games (keno and sports betting) the book also has sections on how to get casino comps, gambling systems, a history of gambling in the US, and much more.
No Tipping Saves Money at Online Casinos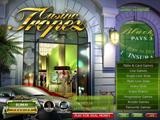 Even though you can choose not to tip when playing craps and blackjack at a casino in the real world, you will probably not make any friends or be treated that well. When you play online, you don't have to worry about tipping, because there's nobody there tip and no way to do it. So here's a tip. . .if you want to stretch your gambling dollar, play online. We recommend Casino Tropez as a great casino to try.
Q I have heard that casino dealers are required to share their tips. That doesn't seem fair to me. If I
tip a dealer
, then I want to be sure that he/she is getting the money. What is the purpose

Basil Nestor is the author of the new Playboy Complete Guide to Casino Gambling. This wonderful book teaches players how to avoid sucker bets and win more when playing gambling games. He is also the author of The Smarter Bet Guide series for video poker, slots, craps, and many other books about gambling. Basil's website is www.smarterbet.com
of this tip-sharing policy?
A Sharing tokes (gratuities are called tokes in the casino business) supposedly insures that every table receives the same amount of good service from every dealer. Without a system of sharing, high-limit tables ($100 and above) can become unpopular with dealers because the tables tend to be empty for long stretches at certain times of the day. Players at low-limit tables keep the tables busy, but sometimes they leave only small tokes. The most lucrative tables for tokes are usually in the mid-limits, around $15 to $50. Likewise, some types of games generate tokes more than other games. All of these imbalances are erased when tokes are shared.
Also, toke sharing discourages inappropriate relationships between dealers and players, and it supposedly motivates all dealers to create a generally friendly atmosphere because all of the dealers benefit when players toke more.
At least these are the arguments. Some dealers like toke sharing, and some hate it. But whatever the system, tokes are an important source of income for dealers. For example, dealers at MGM Grand in Las Vegas had an average income of $63,728 and a base pay of $5.35 per hour in 2000. The difference was tokes. Dealers at smaller casinos earn less, so every toke is appreciated.
Another thing to keep in mind is that tokes are shared differently at different properties. Some casinos split tokes by shift, and other casinos do it by section. In many casinos, poker dealers keep their tokes without sharing. And some casinos have no shared tokes at all, so you should ask about the sharing policy before you push out an especially large toke to reward one particular dealer.