NEW YORK -- With
poker
's unprecedented success and
blackjack
right behind it as the next social, recreational and professional phenomenon, Kasey Thompson, publisher of ALL IN Magazine, has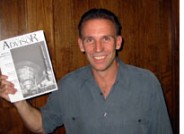 Anthony Curtis, editor of the Las Vegas Advisor
uniquely married his new Blackjack publication with the successful ALL IN Magazine to create the only synergized, all-in-one magazine that appeals to players across the board. Poker fans will begin on one side, while blackjack aficionados will flip the magazine over and read from the opposite direction. Furthermore, most poker players try their hands at blackjack and vice versa, and the majority of readers will enjoy both sections. The strategic expansion hits the newsstands just as a
professional blackjack
tour comes to TV for the first time, with more in the wings.
To ensure the blackjack content is of the highest caliber, Thompson has brought
Anthony Curtis
, one of the world's most recognized and quoted gambling authorities, on board as the Editor of the new blackjack section. The publisher of the
Las Vegas Advisor
and president of LasVegasAdvisor.com, Curtis has appeared as a casino expert on "Dateline," "48 Hours," A&E, E! Entertainment, Discovery, The Travel Channel, The Food Channel, The Learning Channel, and has been the subject of articles in the Wall Street Journal, USA Today, San Diego Union-Tribune, Los Angeles Times Magazine, Los Angeles Times, Arthur Frommers' Budget Travel and Discover Magazine. Curtis is author of Bargain City-Booking, Betting, and Beating the New Las Vegas, and The Art of Gambling Through The Ages. Considered one of the World's foremost experts in tournament play, Curtis' top tournament wins include the World Matchplay Blackjack Championship, Atlantic City Craps Championship, Las Vegas Keno Championship, and the Las Vegas Blackjack Championship. Curtis' company, Huntington Press, will furnish all copy for ALL IN Blackjack.
Said Curtis, "Huntington Press' specialty is gambling content, and blackjack is the hottest gambling game around right now. Our arrangement with ALL IN Blackjack is a perfect fit made at the perfect time."
ALL IN Blackjack will provide
basic blackjack strategy
, tournament strategy, theory, tournament round up, hand analysis, travel features, tournament schedules throughout the country, player profiles, and on-going columns from the best players in the world.
In addition to the stellar lineup of poker writers and poker professionals on its staff, ALL IN Blackjack has compiled an unparalleled team of blackjack contributors, including
Ken Einiger
(World Series of Blackjack Champion), Hollywood Dave Stann, James Grosjean, Max Rubin (Host of the Ultimate Blackjack Tour), Ken Smith and Blair Rodman, among others.
"We are proud to be the first and only consumer blackjack magazine on the newsstand," said publisher Kasey Thompson. "With a roster of writers that is unmatched, ALL IN Blackjack will arrive in the hands of a waiting audience. Blackjack is the most popular table game in the U.S. because it is easy to play and understand. Blackjack players far outnumber of poker players. With the advent of televised tournament poker, blackjack is already becoming the next game sweeping the country."
ALL IN Magazine is currently distributed by Time/Warner Retail Services, a division of Time Inc., and is available at more than 12,000 retail locations throughout the United States including Barnes & Noble, Borders and Hudson News, to name a few. ALL IN Magazine was recently rated the number-one "Games & Hobbies" title on Amazon.com.
Edited by Eric Raskin, ALL IN Magazine stakes its claim as "The World's Leading Poker Magazine" on its combination of comprehensive and colorful content, including in-depth interviews with the superstars of the game, player profiles, tournament coverage, monthly media, online, and travel columns, and an acclaimed instructional section that includes innovative hand-by-hand analyses of major events and tutorials by the biggest names in poker. Contributing writers include poker superstars Chris "Jesus" Ferguson, Howard Lederer, Robert Williamson III, Phil Gordon, and others, as well as an assortment of award-winning journalists and authors. ALL IN Magazine also has a companion website that augments the print magazine with additional analysis and features.
"We anticipate that the creative dual-side format of ALL IN Magazine and ALL IN Blackjack will attract a huge new market for this publication," said Dale Oehler, Time/Warner Retail Sales & Marketing's Senior Vice President/Client Group. "We're very excited about the growth opportunities that this presents."