LONDON -- UK mobile technology provider Cecure Gaming Limited has launched its second mobile gaming title in the UK, Aces Royal Blackjack, proclaiming it to be the '..most advanced real-money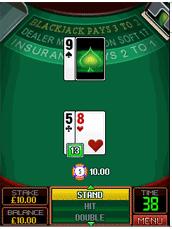 Aces Royal Blackjack is now offered for mobile phones in the UK.
blackjack game for mobile phones.'
The popular game, also known as "21" or "pontoon," is the second title released by Cecure Gaming on its next generation mobile gaming platform, following the release of its popular Aces Royal Poker.
Designed specifically for mobile phones, Aces Royal Blackjack gives blackjack lovers the chance to play the game on the move. It is configured for compatibility on virtually any phone so the game is easy to play and players get a full screen of graphics without having to scroll.
Aces Royal Blackjack utilises a high speed connection which ensures continuous, fast game play, so it's quick and simple to play on the go. Table limits on the game range from 10 pence to GBP10, so there are games to suit all levels of experience.
Aces Royal Blackjack includes comprehensive player-friendly features, including:
• Blackjack pays 3:2 (GBP1.50 for a GBP1 bet)
• Five decks
•
Surrender
•
Double down once after splitting
• Split any pair
• Dealer stands on soft 17
• "Five card Charlie"
"Any blackjack fan will appreciate the simple fun of Aces Royal Blackjack on their mobile phone. It's easy to play, looks great and kills a few minutes while waiting for a bus," said Peter Karsten, CEO of Cecure Gaming. "Whether you call it blackjack, 21 or pontoon, this is one of the most popular games in Britain."
Aces Royal Blackjack is compatible with most handsets from Nokia, Sony Ericsson, Motorola, Sharp, LG and Samsung. More Aces Royal games are due in 2007.
Cecure was formerly known as 3G-Scene, and designs and operates real money, licensed and own brand mobile poker and casino games. Headquartered in London, Cecure's executive management team has years of collective software development and operations experience, and is best known for developing integrated software solutions involving regulatory requirements, security and payments for many of the gaming and leisure industries leading providers.