The Video Poker Answer Book
by John Grochowski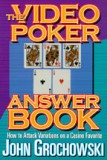 Originally published in 2000 with a second printing in 2004, The Video Poker Answer Book has plenty of fun facts about the rise of video poker -- and lots and lots of strategy advice. Unique among video poker books, The Video Poker Answer Book focuses on how strategy changes with the different pay tables we see in casinos.
The Joy of Six Slot simulates craps action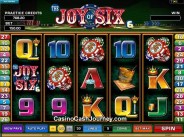 Microgaming's video slot release The Joy of Six allows players the chance to experience the excitement of the enthralling game of craps. Based in a casino environment, the five-reel, 30-payline slot lets players throw the dice in a vibrant world of vivid graphics, craps animations and distinctive sound effects. The large variety of features within the game gives players many opportunities to profit from an enjoyable experience.