More Sex, Lies and Video Poker
by Bob Dancer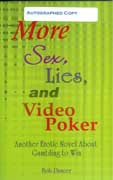 Second in the series of Dancer's video poker fiction, this is an intricately plotted erotic novel filled with the shrewd thinking and elaborate schemes of winning gamblers. It's a fast-moving and insightful book about winning at video poker. It's also about Vegas, baby! Chris is in love with Annie, but Maria wants Chris for an occasional sex-with-no-strings fling. Maria is the mistress of high roller Jimmy, who had a recent affair with Meg, Chris's sister-in-law. Meg's husband Richard, meanwhile, is pursuing Maria, whom Jimmy wants to trade with him for another crack at Meg. The whole ménage is lubricated with alcohol, abetted by guns and martial arts, and inhabited by people willing to lie to those closest to them in order to reach their goals.

Video Poker--Optimum Play
by Dan Paymar

New, second edition. A major expansion of Dan's Video Poker: Precision Play. A guide to video poker machines and the strategies necessary to beat them. Concentrates on Jacks-or-Better, Deuces Wild, Jokers Wild, and variations. Aimed at the recreational player who wants to become a serious or semi-pro player. Strategies are concise and easy to learn. Second edition introduces Dan's Attractiveness Index and covers several newer games.