Million Dollar Video Poker
by Bob Dancer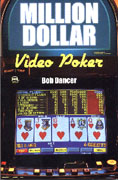 Bob Dancer is a video poker legend. His software, books, and strategy cards have become sought-after items for beginners or serious video poker players. His books provide beginners, serious players, dedicated players, tournament players and anyone even thinking of playing these addictive, sometimes lucrative machines with more angles, strategies, and stories about those who win or lose (and why) than any book published in recent years.

Winner's Guide Volume 1: 2nd Edition - Jacks or Better
by Bob Dancer

Bob Dancer and Liam W. Daily have just released the second edition of Winner's Guide Volume 1 -- Jacks or Better. This new edition has been expanded to 128 pages and features the following enhancements: 1) A complete discussion of the differences between Jacks or Better and other popular games, including Double Bonus, Double Double Bonus and Deuces Wild. 2) Enhanced (more user-friendly) notations --- done in conjunction with the latest Dancer/Daily Strategy Cards. 3) An updated strategy for Level 4 Flush-5
With these improvements, Winner's Guide Volume 1 presents the most comprehensive discussion of Jacks or Better ever published.