A Huge Collection of Loose Slots!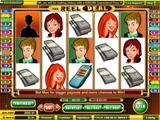 Online casino slots are loose. Why? Because with the lower overhead, no slot employees to pay, and lower taxes, they can afford to pay more back to their customers. Roxy Palace offers a huge range of casino slots for you to play for fun or for real money prizes. From easy to play 3-reel games and fruit slot machines, all the way through to popular video slots, progressives slots and brand new releases from Microgaming, every game provides a high level of quality.
Find Loose Slots... Play Online!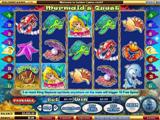 Roxy Palace has some of the loosest slots on the web. Their selection is huge and with less overhead, employee costs and taxes than your typical brick and mortar casino, they can afford to give back a bigger percentages of bets back to the customer. If you're looking for loose slots, play online!

Strictly Slots
Strictly Slots is a high-quality, excellently written and edited magazine designed for today's slot players. The website for the magazine also has a lot to offer including past articles, previews of the current edition, and a online subscription form. If you enjoy slots, take a look at Strictly Slots.
Q I understand that slots and
video poker machines
are set to pay back a particular amount (93%, 98%, etc). If that's the case, then each machine must keep track of wins and losses and adjust the

Basil Nestor is the author of the new Playboy Complete Guide to Casino Gambling. This wonderful book teaches players how to avoid sucker bets and win more when playing gambling games. He is also the author of The Smarter Bet Guide series for video poker, slots, craps, and many other books about gambling. Basil's website is www.smarterbet.com
payouts to reflect the payback percentage. When a machine "gets hot," it's simply catching up. Given this, there should be a way to determine when a machine is getting ready to pay off. How would I best do this?
A Sorry to say, but
slot machines
don't track wins and losses to adjust payback. And games do not pay out jackpots to "catch up." Here's why...
Imagine that your favorite casino has a new slot machine called Crazy Quarter. The game is a coin-flip contest, exactly the same as the contest you can play at home with any coin. Crazy Quarter is "set to pay back" 100%. In other words, neither side has an advantage. Yes, this would be a ridiculous casino game, but I'm using it as an example.
The bet is $1 per flip, and the payout for a winning wager is $2 (returning your original $1 plus another $1). Again, this is just like playing at home. A win is worth $1; a loss costs $1.
Let's say you bet heads. Okay, you flip the coin and the machine produces tails. You lose. Now what?
Should the machine force heads on the next flip to "adjust the payout?" No, it's a contest. Every coin flip is independent. Neither side has an advantage because both sides have an equal chance. Inevitably, there will be a winner and a loser. But the machine is not required to keep the winning and losing exactly even. You might win three times in a row, or you might lose six consecutive times. It happens. A real coin is never "getting ready" and neither is a slot machine. Both are "set to pay back" a particular amount. The difference between a coin and a machine is that the former has only heads or tails, and the latter has a few billion "sides" that are unevenly divided into winning and losing reel combinations. The casino has more chances to win, but nobody (not even the slot machine manufacturer) can accurately predict how the reels will stop on the next spin.
By the way, slot machines do track wins and losses for accounting purposes, but that information has no effect on how the game is played.