The Slot Machine Answer Book
by John Grochowski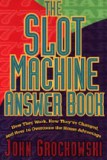 Newly revised for 2005, The Slot Machine Answer Book sold out of its original printing in 1999. Grochowski takes his quiz format to the slots. What was the first three-reel slot machine? Where do reel symbols such as bars and fruits, still in use today, come from? If someone has just hit a jackpot, is that a machine to avoid? Are there ever situations in which players can gain an edge on the slots? All that, and much more, is covered.

The Video Poker Answer Book
by John Grochowski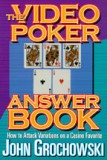 Originally published in 2000 with a second printing in 2004, The Video Poker Answer Book has plenty of fun facts about the rise of video poker -- and lots and lots of strategy advice. Unique among video poker books, The Video Poker Answer Book focuses on how strategy changes with the different pay tables we see in casinos.

The Craps Answer Book
by John Grochowski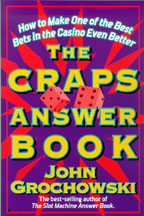 If you're looking for fast-paced excitement, just follow the cheers and jeers of players winning or losing together. The noise will lead you straight to the craps table. But how do you separate the good bets from the bad? Do combination bets cut the house edge? And what does an ancient game called Hazard have to do with this, anyway? The Craps Answer Book will have you rolling in no time.
About John Grochowski

John Grochowski has been on the casino beat for the last 11 years. He writes a weekly gambling column that runs in newspapers and on Web sites (including ReadyBetGo!), and is a regular contributor to magazines such as Midwest Gaming and Travel, Southern Gaming and Entertainment, Slot Manager and International Gaming and Wagering Business.
John got his start as a gambling writer at the Chicago Sun-Times in the early 1990s. A collection of those articles have been collected in John's book Gaming: Cruising the Casinos with John Grochowski. John has also become well-known as the "Casino Answer Man" and has published a series of books in a question and answer format. The titles include The Casino Answer Book, The Slot Machine Answer Book, The Video Poker Answer Book and the Craps Answer Book.
John's website is www.casinoanswerman.com
Latest John Grochowski Articles
Video Poker: Betting less than Max
Does it ever make sense to bet less than max coin when playing video poker. That's the question John Grochowski tackles in this interesting article.
Revisiting the Blackjack Basic Strategy Chart
If you're a blackjack player, and have never looked at a basic strategy table, you should. It's a tidy little grid, with possible player hands down the side, and possible dealer face-up cards across the top. Yet, there is an exception to all that orderliness.
Pong Slots Get Physical
The five-reel video slot machine offers nostalgic fun for those who fondly remember Pong from its release to arcades and taverns in the 1970s, or even for those who have caught up with it in the retro games packages that home video game manufacturers have released in recent years.
Jacks or Better Q & A
The place to start for any video poker player is Jacks or better. Take the following quiz to see if you understand this game before moving on to the more exotic models.