Slots are Loose Online!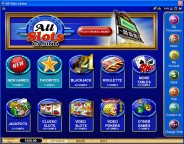 All Slots Casino has one of the largest collection of slots and some of the loosest slots on the web. Their selection is huge and with less overhead, employee costs and taxes than your typical brick and mortar casino, they can afford to give back a bigger percentages of bets back to the customer. Check it out!
A Huge Collection of Loose Slots!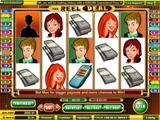 Online casino slots are loose. Why? Because with the lower overhead, no slot employees to pay, and lower taxes, they can afford to pay more back to their customers. Roxy Palace offers a huge range of casino slots for you to play for fun or for real money prizes. From easy to play 3-reel games and fruit slot machines, all the way through to popular video slots, progressives slots and brand new releases from Microgaming, every game provides a high level of quality.
Slot machines come in various types with many sub-classifications. These distinctions are important because in most cases they indicate how a game should be played for maximum return. I'm going

Basil Nestor is the author of the new Playboy Complete Guide to Casino Gambling. This wonderful book teaches players how to avoid sucker bets and win more when playing gambling games. He is also the author of The Smarter Bet Guide series for video poker, slots, craps, and many other books about gambling. Basil's website is www.smarterbet.com
to list them briefly here, and then cover them later in detail.
The casino-industry term "slots" includes
reel-spinners
(often called traditional reels) and video slots. The latter is subdivided into video reels
,
video poker
, video keno, and other video-machine games.
Contests that pay a fixed amount for the top prize are known as flat-top or non-progressive machines. In contrast, progressive games have a top jackpot that grows incrementally each time the game is played.
Progressive games come in three types. A
wide-area progressive
is a game in which hundreds of machines at different properties compete for one large jackpot. An in-house progressive ties machines together at one property. And some stand-alone machines have their own internal progressive jackpots.
Many reel games these days have multiple paylines, but you can still find some that have single paylines. Video poker games come in single-hand and multiple-hand versions.
The latest whiz-bang slots have a basic game and a bonus game. One or more of the reel combinations in the basic game will bounce you into a bonus level, and you get to choose something, spin something, and so on.
Every game has a gimmick, something to separate it from the crowd. A typical gimmick is one or more bonus levels. A player hits a particular reel combination and the game goes into bonus mode. It can be as simple as a spinning wheel for
Wheel of Fortune
, or as complex as a round of Yahtzee.
Another common gimmick is wild symbols that double, triple, quintuple, or otherwise increase the payout of any reel combination. Wild symbols also sometimes nudge; they hit just above or below the payline, and then they click into position. Hurrah! But of course, this cliffhanger is just for show. The winning combination was predetermined when you pressed the button.
Some machines have wild symbols that make them go bonkers; the game spins and hits many times without requiring extra credits.
And finally, some video machines contain multiple games. You can play five different slot games, six different video poker games,
blackjack
, or keno at one terminal.
Yes, it's a breathtaking cornucopia of options and types. And it's even more amazing when you consider how similar these machines are on the inside.
The preceding material is just a sample of what you'll find in Basil Nestor's Smarter Bet Guide to Slots and Video Poker.