It's easy to get caught up in the theme of a slot game (Munsters, Tabasco, Three Stooges, or whatever). Watching Luke Skywalker slay Darth Vadar in the Star Wars game is very entertaining. But

Basil Nestor is the author of the new Playboy Complete Guide to Casino Gambling. This wonderful book teaches players how to avoid sucker bets and win more when playing gambling games. He is also the author of The Smarter Bet Guide series for video poker, slots, craps, and many other books about gambling. Basil's website is www.smarterbet.com
frankly, the battle on the RNG (
random number generator
) is more important to your
bankroll
than the battle on the video screen.
The RNG plays a game according to a particular set of rules. Those rules are what we study to develop a strategy for beating the game. It takes some practice, but once you become familiar with the various rules of the game, you can pretty much look at a machine and immediately know your chances of beating it, and how it will pay over time.
Below we'll review those rules, and then I'll tell you how they affect strategy.
The first step is to identify the denomination of base units/credits that a game accepts. Pennies, nickels, quarters, dollars, and five-dollars are most common, though some machine use other units (such as half-dollars).
Here are some other important things to notice.
Reel-spinners are typically three-reel games with one or more paylines. Each payline requires a wager for the line to be active, so playing three lines is essentially the same as playing three games simultaneously. Games with one, three, five, and nine paylines are common, and a game with multiple paylines can be played with fewer lines than the maximum.
Video reels typically have four or more virtual reels with multiple paylines, but aside from the ability to display animation and bonus games, the practical operation of video slots is identical to reel-spinners.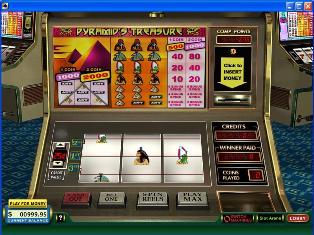 Each payline requires a separate bet. The game can be played with bets on fewer than all the lines
Buy-a-Pay, Multipliers, and Progressives
One conceptual variation of multiple paylines is the buy-a-pay game. In this situation you're not purchasing additional paylines, but you're buying the opportunity to hit additional winning combinations. In other words, three bars are worth 50 credits and three sevens are worth nothing if you wager one dollar, but two dollars will "activate" the sevens, and they'll be worth 100 credits if they hit.
Yet another variation is a bonus multiplier. It's one of those industry terms that often confuses more than it explains. A standard multiplier game pays exact multiples of whatever amount is wagered. Smack the top prize with one credit and you win 500 credits. Whack it with two credits and you win 1,000 credits. It's simple multiplication. A bonus multiplier adds a bonus to the top prize when a player wagers maximum credits.
Buy-a-pay and bonus multipliers are taken to an extreme with progressive machines. A portion of every dollar you wager builds the top prize, and it's often worth millions. The pay table has a meter showing the current value of the big jackpot, and there's usually another large display meter above the machine. A player must wager the maximum per spin to be eligible for the top prize. Imagine the horror of playing one credit, hitting the magic combination, and missing a multi-million dollar payoff. Sadly, this happens from time to time.
On March 14, 2001, Kirk Tolman put two coins into a Megabucks slot machine. He pushed the button. The Megabucks symbols lined up and delivered a $10,000 jackpot. Nice, but Tolman missed the top jackpot of $7.9 million because he didn't play a third coin. Lesson: If you're going to play a
progressive slot machine
, always go for the top payoff.
Slot Hit Frequency and Volatility
Hit frequency is a measure of how often a machine pays out. Volatility measures the relative value of those payouts over time. A machine with high volatility will hold a lot for a while, and then pay out a lot very quickly (or vice versa). A low-volatility game will return its payback percentage in less time. High hit frequency and high volatility are not necessarily mutually exclusive, but they do tend to occupy opposite ends of the spectrum.
Hit frequency for slot machines is typically between 10 and 50 percent. Reel-spinners usually hit less often than video slots, but it depends on the game and the number of lines in play. A game that hits frequently is not necessarily loose, especially if most wins are less than the value of the wager.
The preceding material is just a sample of what you'll find in Basil Nestor's Smarter Bet Guide to Slots and Video Poker.